This article is more than 1 year old
Oracle promises more cloud love
Prepping own hardware?
OpenWorld 08 Oracle is planning partnerships with more cloud computing providers while suggesting it could also deliver cloud services as part of its existing ondemand business.
Executive vice president of product development Chuck Rozwat said Tuesday Oracle's database and software infrastructure sack would "definitely" be updated to work with more providers of cloud computing beyond Amazon's EC2 and S3.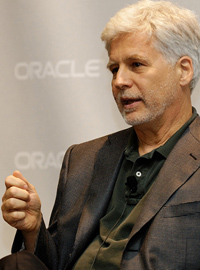 Rozwat: experimental days for cloud
He did not name names or provide dates, but - speaking to press at OpenWorld - indicated he had faith in the future of cloud computing services like EC2.
The currently experimental market will mature into a service for businesses as "people will migrate more and more serious/mission critical applications to the cloud".
"My feeling is people will try it out first, get their IT and business practices down," Rozwat said.
Rozwat called cloud computing an "outgrowth" of what Oracle's being doing for 10 years with its ondemand business.
Asked whether Oracle planned to provide its own server farms for cloud computing, he said Oracle's skills lie in building and optimizing software rather than simply running data centers. Reading between the lines, and given his views on how he expects serious business uptake of cloud in future, that sounded like a "yes" - once there's a business case.
"We have no plans to be in the business of providing just a hardware platform because we think the added value is what we can do around the software, and you call that the cloud," Rozwat said.
Oracle's ondemand business has provided versions of its software to customers on hosted server and storage both on and off customers' premises. Services can be run by customers, Oracle partners or Oracle itself.
Commenting on the work with Amazon, Rozwat said the goal has been to enable customers, partners, and Oracle to use EC2 and S3 easily in conjunction with Oracle's database and middleware products. The crux of the work has been to enable back up to the cloud from Oracle by working with Amazon's virtualization layer.
11g take two
Rozwat, meanwhile, told press that Oracle is still not ready to provide a public delivery date for the next update to its 11g database, released last year. Session after OpenWorld session has focused on 11g, while president Charles Philips announced an interim 11.1.07 release on Monday - although further information on this has so far proved hard to find.
However, there's been no mention of 11g R2 even though it's expected to be relatively big.
Among planned features, the ability to make grids - clustered servers - easier to set up and manage using Oracle's Real Application Clusters (RAC). "We want to make sure customers have access to a set of new tools we have for better monitoring and to be able to react to some issues in the future," Rozwat said. ®