OpenWorld 08 Oracle will partner with Intel in the ever-nebulous cloud computing arena, in the latest straining of Oracle's relationship with one-time big-systems pall Sun Microsystems.
Oracle and Intel pledged Tuesday they'd work together on standards and integration in virtualization and security to help organizations move from private to public clouds.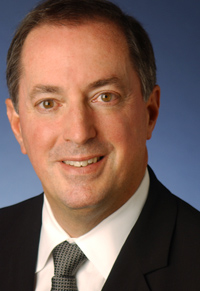 Oracle to Otellini's Intel: you complete us
The news was presented during an Oracle OpenWorld keynote by Intel president and chief executive officer Paul Otellini, who'd been introduced just minutes before by Oracle's president and chief operating officer Safra Catz as Oracle's best friend.
"Intel for us at Oracle is our first choice always," Catz said, adding that only Intel comes up with the industry's most energy-efficient silicon innovations. "You know we choose Intel."
That was a triple whammy directed at Sun. Not only was Oracle endorsing low-cost Intel boxes over Sun's mighty Sparc to power the server farms that run cloud data centers - an area where Sun has been heavily pushing Sparc - but she was also hitting Sun's Sparc Niagara processor family in an area where Sun has been making a lot of noise: power consumption.
Oh, and Sun also happens to be a major systems customer of Intel's prime chip competitor AMD.
That's what you get in the Alpha-male competitive world of Oracle, though, when you purchase a database competitor like MySQL - as Sun did last year.
Catz's comments mark the latest cooling in the two companies' relationship since they pledged another 10-years' co-operation on Java nearly three years ago. Last month, Sun sought to convert customers of Oracle's WebLogic application server to its own open-source Java application server.
According to Intel, it's now working with Oracle to deepen their existing relationship by extending standards in the area of portability of virtual machine images. They will also create web services standards for the provisioning and management of cloud-based services.
The companies did not provide details, but pointed to the Open Virtual Format (OVF) as an example of one standard ripe for extension.
Additionally, the companies pledged to strengthen the security of virtual machines in a shared cloud environment to protect customer data. Specifically, Intel's virtualization security features will be optimized to Oracle's software, while Intel and Oracle will "better integrate" their data encryption technologies.
Oracle and Intel said they'd also continue existing work to optimize around performance and power efficiency.®