Review HTC brought out its iPod-bothering Touch Diamond back in May, but four months can sometimes seem like a lifetime in mobile phone terms.
We've been promised the Pro since then, but while the newest kid on the HTC block has many similarities to its predecessor, there have also been several improvements, all of which go to make this arguably HTC's best handset yet... and that's saying something.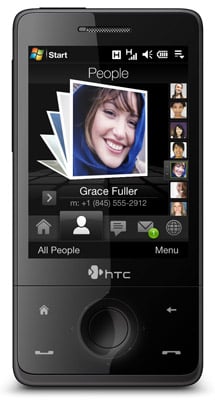 HTC's Touch Pro: the company's best handset yet?
If the Diamond put style first, with its slimline casing and glossy casing, its successor is all about the business. On the face of it, the Pro looks much the same as the Diamond, with the same 2.8in touchscreen atop a circular navpad and four flush buttons for call start and stop, plus back and home.
But as if to emphasise that it has power where you need it, it's within a few millimetres of being twice as thick as its predecessor: it's 18.5mm, the Diamond was an unhealthily slim 11mm. The Pro's 55g heavier, too, weighing in at 165g. It's a hefty handful, though at 102 x 51mm face-on it's small enough that it will fit into pockets that the iPhone, for example, isn't suited to.
The big difference between the Pro and the Diamond is, of course, its hard-key Qwerty keyboard. It slides out to the left with a decent push, nicely balanced so it's easy to open but is unlikely to do so by accident. It's got five lines of keys, each of which are necessarily on the small side, but which have raised middles made of rubber-plastic, which makes them easy to differentiate with your thumbs.