Ellison flogs Oracle server appliance alliance with HP
(Not) a hardware provider
OpenWorld 08 Men pushing a dream need to know when to let go. Otherwise like Captain Ahab you go to your destruction, or like Bill Gates, obsessed by the Tablet PC, become a comedic sideshow.
And so to chief executive Larry Ellison, who Wednesday afternoon announced Oracle's third effort in 10 years bundling his company's software with someone else's hardware. This time, it's a high-performance, Oracle data and storage server stack locking arms with old favorite Hewlett-Packard.
Ellison announced immediate availability of two devices: the HP Oracle Exadata Storage Server and also the HP Oracle Database Machine, a big HP box featuring a stack of pre-configured Exadata Storage Servers all running Oracle's database and its Enterprise Linux.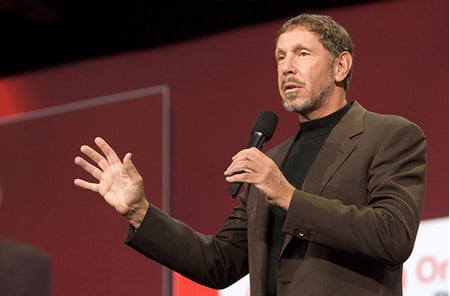 Ellison: the future is still a server appliance
It was a return to appliance glory for Ellison, who remains clearly convinced the future is a warm bundle of HP's hardware running Oracle software.
Ellison jumped on to appliances in 1998 when he used the spotlight of the massive Comdex trade show to announce the 8i database appliance - minus any partners and that finally shipped 18 months later on Intel servers from HP, Compaq, Dell, and Fujitsu Siemens. He was back on the appliance crusade at Comdex 2000, where he announced the Oracle9i Application Server running on a Compaq ProLiant DL360 two-processor server.
In 2000 Ellison declared: "The new model of computing is the appliance" - a device he described as a pre-configured, pre-tested, and pre-loaded hardware and software bundle.
Back then, Microsoft was Ellison's whipping boy and Oracle's appliances were designed to stonewall Microsoft's then-new Windows NT and Windows 2000 in the data center by - according to Ellison - making the operating system anonymous to the user. Those early appliances ran Sun Microsystems' Solaris and a version of Linux.
Trouble was, history wasn't on Ellison's side and - despite the CEO's passion - orders failed to materialize in bulk, and both Oracle's server appliance bundles fizzled.
This time Ellison seems to think things will be different even though very little has changed.
Again, it's a Compaq/HP box and - again - Oracle's software has been pre-configured and preloaded. And, contrary to Ellison's bold OpenWorld claim - which will be seized on by certain headline writers - that Oracle is "entering the hardware business," it's HP that is doing all the construction and providing all the support. Oracle's just taking customers' orders and remaining firmly in the software business.
In attempt to differentiate these appliance, Ellison claimed Exadata is "smart" and fast.
The hair has it
Delivering his OpenWorld keynote Ellison - sporting a curiously Romanesque hairstyle - claimed the HP Oracle Exadata Storage Server offers a ten fold performance boost in data-intensive query processing. The Storage Server features two Intel, eight core processors along with 12TB worth of disk drives running Oracle's parallel query database software.
Also, the storage server and database grid uses InfiniBand to provide 1 GB/sec of data bandwidth per storage server. Ellison said the combination of InfiniBand and the fact the system passes query results between the storage and the server - rather than the full disk blocks - are responsible for the speed boost.
"It's intelligent," Ellison told OpenWorld, "not just a bunch of disk drives."
The HP Oracle Database Machine, meanwhile, consists of a grid of HP Oracle Exadata Storage Servers in a single rack and Oracle Database Servers. The stack offers eight Oracle database servers, 64 processor cores, Oracle's Enterprise Linux and Real Application Clusters. The inclusion of RAC is important, as Oracle hopes RAC will become easier for users to run as HP will have done the pre-integration and pre-configuration - theoretically saving users the job.
There was no word on price although based on past sales of Oracle appliances you can expect Oracle to be very flexible. Ellison also promised other operating systems and chip architectures would follow the initial Intel- and Oracle Linux-based Exadata systems, but gave no dates.
In a telling sign of how much faith Ellison places in his latest appliance, he did not sit down for his traditional, open-mic smack-down session with OpenWorld attendees to field questions.®