UK.gov 'to drop' überdatabase from snoop Bill
Central snoop silo carries on regardless, sources say
Exclusive The government will drop plans for a massive central database to track private communications from the forthcoming Communications Data Bill, but officials will proceed with the multi-billion project in the background instead.
Senior civil servants will discreetly run the project to swerve potential political opposition to a scheme which would retain details of every phone call, email, and web browsing session of every UK citizen, sources have told The Register.
According to people familiar with the plans, the Home Secretary* will introduce the Bill to Parliament soon after MPs return from recess on October 6.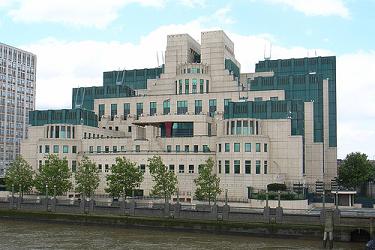 The HQ of the Secret Intelligence Service, AKA MI6
It will not overtly mandate a government-contolled universal database of electronic communications. But sources said the mandarins behind the "Interception Modernisation Programme" (IMP) are determined to go ahead despite concerns about its public spending and ethical implications from departments including the Treasury and Cabinet Office.
Spending would be allocated under the secret budgets that provide funding for the intelligence services.
Political manoeuvres
In August we reported that figures in the hundreds of millions of pounds range had been touted at exploratory meetings last year between IMP officials and the telecoms industry. It's understood that the total sums for procurement and operation of a central database now being discussed at Whitehall are well into the billions and larger than that earmarked for the much-delayed National ID Card Scheme.
Asked to confirm or deny that a central database would not appear in the Bill, the Home Office told The Register in a statement: "The Government has already published the draft legislative programme for the next session of Parliament. This included the Communications Data Bill. Proposals are being developed and full details of the Bill will be released once they have been completed."
The Communications Data Bill had been due to be published before the Westminster summer break. The delay meant the government's original plan to bundle the whole of the IMP with new EU directives requiring data retention by ISPs - announced by Gordon Brown in May - was dropped because the European rules have to be in force by March next year. Instead the Brussels directive will be transposed by statutory instrument, and the Communications Data Bill will standalone to legislate for the IMP.
But insiders believe ministers and senior officials are worried that a central database granting intelligence services and law enforcement unprecedented power to search and cross-reference mobile location data, phone calls, emails and web browsing would meet strong resistance from MPs and risk defeat for Labour. It's hoped that downplaying plans for a central database will mean a smoother parliamentary passage for the Communications Data Bill.
Statutory cover for the database could be provided later by a new government with fewer rebellious MPs. That scenario would mean this year's Communications Data Bill would focus on other elements of the IMP, such as updating wiretapping powers.
*Which may or may not be Jacqui Smith.