China's Shenzhou VII spacecraft blasted off today at 13:10 GMT from Jiuquan Satellite Launch Center in northwestern Gansu Province atop a Long-March II-F rocket. The mission marks the communist state's third manned space jaunt, and the first to include a spacewalk - if all goes according to plan.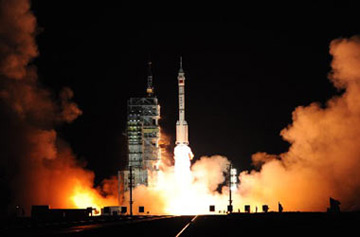 The timing of the spacewalk depends on the time it takes the crew of three (Jing Haipeng, Zhai Zhigang and Liu Bomingto) to "adjust" to conditions aloft. They are apparently supplied with a traditional remedy* which will in this case combat the effects of "space motion sickness", and astronaut** research official Li Yongzhi told Xinhua news agency: "It is made of more than 10 types of Chinese herbs, and has proven to be effective in improving the astronauts' cardiovascular conditions."
The mission is due to last around three days, and China has deployed five satellite tracking ships to keep tabs on Shenzhou VII, while helicopters and vehicles are on standby to meet it when it returns to Earth in Inner Mongolia.
Shenzou VII is, according to space scientist Jiao Weixin of Peking University, simply a stepping stone in China's ambitious extraterrestrial programme. He told Reuters: "The current manned spacecraft is just a tool toward a space station. It's laying a foundation for the future."
Indeed, President Hu Jintao told the three astronauts before the launch: "This will be a major step forward for our country's aerospace technology. You can certainly fulfill this glorious and sacred task. The motherland and its people await your triumphant return."
China's first manned space mission was in 2003, when Yang Liwei spent 21 hours in orbit. He was followed into the ether in 2005 by former fighter pilots Fei Junlong and Nie Haisheng in the Shenzhou VI capsule.
Xinhua has more on the mission, with pictures, here. ®
Bootnotes
*Yes, the remedy is traditional, in the sense that it's traditional, or already existed, long before China eyed the stars. Hence our use of the word "traditional", taken from Xinhua's description of it as a "traditional remedy".
**Or "taikonaut", if you prefer. According to Xinhua, this is a combination of the Chinese "taikong" (space) and "naut". Fair enough, we reckon. After all, if the Russians can have "cosmonaut"...
Similar topics