This article is more than 1 year old
Ballmer gives Norwegian students free love
Beware the flying herring
Microsoft believes it has "lost" a generation of developers who might have embraced Windows and .NET, thanks to the Mac and open source frameworks and operating systems.
In an ongoing attempt to woo the next generation Microsoft's rumbustious chief executive will next week announce the latest extension of a program offering Microsoft software worth thousands of dollars at a price point no student can refuse: free.
A Reg reader with an eye on the Norse lands has pointed to the fact Ballmer is due to meet Norway's prime minister and education minister in Oslo on Tuesday, to cut the local ribbon on DreamSpark - a program officially launched in February.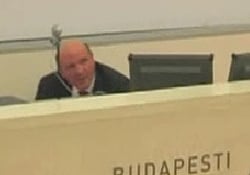 Steve's last European student experience
Unbowed by his last experience at the hands of Europe's ungrateful student body, Ballmer will announce Norwegian students can download versions of Visual Studio 2008, Windows Server 2003 Standard Edition, SQL Server 2005 Developer Edition, Microsoft Expression Studio, and XNA Studio 2.0 for free from a Microsoft web site.
Naturally, many will be suspicious of getting anything for free from Microsoft, but in this case, there's very little to worry about. Most of the software is several years old or - in the case of Expression Studio - so unused in the wider world that using them is unlikely to actually help you get a job.
The one exception: Visual Studio 2008.
Microsoft would not comment on the Norwegian DreamSpark extension, but in a statement confirmed Ballmer is visiting Europe next week to hold "high-level meetings with government officials in each country, customers and partners to discuss the impact of technology on business and society and Microsoft's continued investment in the region." ®