New hydrocarb X-51 scramjet ready for flight
DARPA, NASA chuffed to bits blown away cautiously pleased
US jet-engines'n'rockets colossus Pratt & Whitney says it has successfully completed ground testing of its new hypersonic scramjet engine prototype, which can run on ordinary hydrocarbon fuel at Mach 6. The company believes that the radical hyperjet is now ready to fly on the X-51 "WaveRider" test flights planned to begin next year.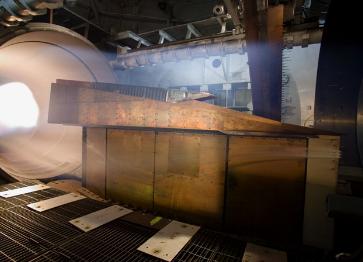 So fast, the flames can't keep up with it
P&W Rocketdyne has been working on the scramjet engines for X-51 under contract to several US government agencies.
"We're extremely pleased," said Charlie Brink, top X-51 boffin at the US Air Force Research Laboratory, discussing recent tests at a NASA high-temperature wind tunnel in Virginia.
"This engine test is the culmination of several years of hard work ... from what we've seen so far the system is pretty much ready to go. We have a few items that we're fine-tuning to optimize for flight but, for the most part, the engine is operating just the way we want it to."
The latest version of the engine is called SJX61-2, and is identical to the designs which will fly in the WaveRider test vehicles next year. Like an ordinary ramjet, it scoops in air at the front without benefit of a compressor fan, meaning that it must already be flying at high speed before it will even start up.
Unlike an ordinary ramjet, however, in order to avoid prohibitive levels of drag building up between Mach 3 and 4, the SJX61-2 is designed to let its intake air stream go supersonic inside the engine - and yet keep on burning, hence "scramjet" - supersonic combustion ramjet.
Most scramjets successfully demonstrated thus far have had to use light, highly-flammable hydrogen fuel in order to sustain a supersonic flame. This would have severe disadvantages in any future hypersonic aircraft, however, owing to the large volume required to store useful amounts of hydrogen. Any such aircraft would be mostly fuel tank.
But NASA, the US airforce boffins and P&W reckon they can make a scramjet run on comparatively ordinary JP-7 hydrocarbon juice, much denser and more easily stored. Naturally enough the SJX61-2 has also received funding from DARPA*, the renowned Pentagon crazyscience bureau whose nuttiness can only be properly expressed in terms of a conceptual Tardis-style hyperdimensional fruitcake, able to hold many times more nuts than can fit within its apparent measurements.
Previous flight tests of JP-burning scramjets have not been an unalloyed success despite promising windtunnel work, but DARPA, NASA and the air force clearly believe that the X-51 test vehicles - which will be shot up to ignition speed by booster rockets, and splash down into the ocean after the scramjet burns finish - will work better.
DARPA at least reckons it can move on from there to build a reusable hyperjet. This proposed "Blackswift" would take off from a standing start on a runway using turbojet mode, transition up into Mach-6 hydrocarbon scramjet flight and perform a hypersonic barrel roll before finishing with a runway landing.
The Blackswift, however, will go nowhere fast unless the SJX61-2 lives up to its windtunnel promises in the air. ®
* The Defence Advance Research Projects Agency.