This article is more than 1 year old
EMC founder clashes with IRS over 'tax evasion' scheme
Gimme back my $62m
Richard Egan, ex-marine and a founder of EMC, is suing the US Internal Revenue Service for the return of $62m taken from him after the IRS decided option trading arrangements he had entered into were a tax avoidance scam. Egan insists the trades were genuine.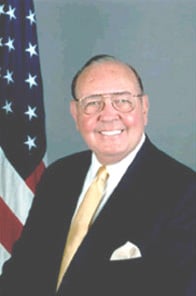 Egan, an ex-US ambassador to Ireland, is involved in the case because he and his wife - both ex-board members of storage giant EMC - together with three other people set up two partnerships which traded in options and made losses. These losses offset investment gains made in other activities, and reduced the partnership members' tax liabilities in the 2001 and 2002 tax years.
The case is being held in Worcester, Mass, in front of District Court Judge F Dennis Saylor IV. There will be no jury as it is a civil case.
The IRS asserts that the option trades were essentially a fraud, existing only on paper, with no intention other than to create a lowered tax bill. Egan says he merely followed the advice of lawyers, accountants and tax advisors. He claims the partnerships were set up to reduce his exposure to short-term volatility in the value of his massive holdings of EMC stock. The IRS says this group of people was just an off-the-shelf crew used to try and turn a defrauding tax shelter into a legitimate tax reduction exercise.
Egan is the lead partner in each partnership for tax purposes. Forbes magazine reckons he is worth $1.4bn and ranked 355 in a list of the richest Americans. He resigned from EMC's board in September 2001 to represent the USA in Ireland, when the tax avoidance or reduction measures were taking place. President Bush, a grateful recipient of funds from Egan, nominated him to be Ambassador Extraordinary and Plenipotentiary of the United States. During his two years in Ireland he was described as both invisible and bullying, as well as being bored with Dublin. Extraordinary indeed.
More on all this here. ®