This article is more than 1 year old
Voix MPX 2.1 tower loudspeakers
In-spire-ing sound quality?
Review Designed to act as a complete audio package for home cinema set-ups, the Viox MPX rig packs a good performance some nice features, but one still can't help but be left with the feeling that it could be better.
The MPX 2.1 speaker system consists of two slimline tower speakers that are each just over 1m tall. The company quotes 72W output through each aluminium-cone tower. Four 2in woofers partner a 1in tweeter on each unit, and there's a further 36W coming from the down-firing 3.5in sub-woofer in the base of the tower.

Voix' MPX 2.1: these towers feel like they could easily topple
Before you can tap into any of this power, however, the speakers have to be mounted on their cone-shaped bases. The MPX has feet that slot into opposing housings on the base, and the right speaker - aka the MPY - has three bolts which screw in to keep the unit in place. None of this is particularly taxing, but despite the relatively robust and heavy make up of the bases, the towers still feel a little bit vulnerable and almost ready to topple over.
Looks-wise the product rates well, with a piano black finish allowing it to fit into both modern or more traditional interiors. The most innovative feature on the product is the iPod dock, which is built into the top of the left-hand speaker unit, also called the MPX. Dock-adaptors are included which means any iPod can be held in place firmly. The adaptors slide in and out with ease, and the main speaker can actually act as a playback system on its own when not connected to the MPY.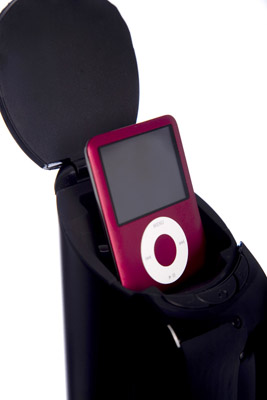 iPods sit neatly, but other MP3 players are less comfortable
The four woofers on the product split into right and left channels when in this single-tower mode, with the two top drivers working the left channel and the bottom two handling the right. We're not quite sure why you would want to set the system up like this. The speakers come as a pair, so why not use them as a pair? The performance of the MPX on its own supported this view. The sound was clear enough, but ultimately it feels thin. However, wire the two towers together and the sound improves significantly.