This article is more than 1 year old
Fire-breathing black cabs: Shock eyewitness photo
NRA operative survives TX4 ambush
RoTM Our recent shock piece on an attempted incendiary uprising by the TX4-type cab prompted the neoLuddite Resistance Army to place all London cadres on Defcon Laguna.
Well, the reality is worse than we thought. Here's an image caught by an NRA operative last night during a furious firefight in the capital: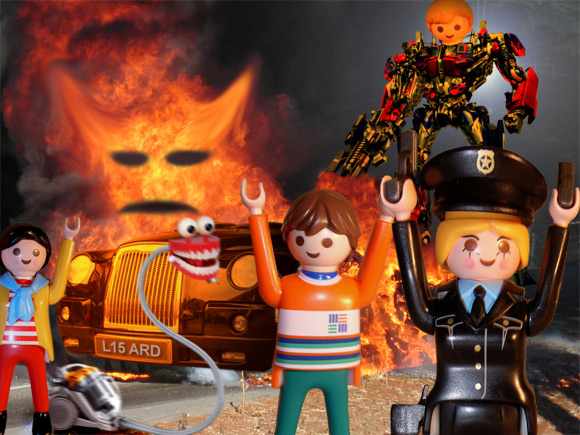 According to the combat report, police and fire services were called to the scene of a spontaneous TX4 combustion incident, only to be ambushed by a hideous Optimus Prime/Boris Johnson hybrid attack cyborg, seen here about to discharge traditional Tory values from his throbbing weapon.
While law enforcement operatives and members of the public quickly took to their heels, the unfortunate cabbie was savaged by a Cyberdyson - a Lizard Alliance vortex killing machine which, as you can see, moves with terrifying speed to dispatch its victims.
Our NRA comrade has been taken to the Montana bunker complex for debriefing, while our photo interpretation unit is probing the image in the hope we can pinpoint exploitable weaknesses in the Johnson cyborg. Its preliminary findings suggest the creature may be vulnerable to a robust kick in the ballot box. More follows... ®
The Rise of the Machines™
London battles fire-breathing black cabs (22 September 2008)
South African survives exploding fridge attack (11 July 2008)
Tumble dryer bites woman in Weston-super-Mare (19 June 2008)
Dutch fire up petrol-pumping robot (5 February 2008)
Aliens responsible for Italian machine uprising (29 October 2007)
NASA to unleash 'mind meld' intelligent machines (22 June 2007)
EU slaps 'Davros tax' on mobility scooters (12 June 2007)
Carnivore ATM bites Florida kiddie (16 March 2007)
Hybrid vehicle attacks petrol station (12 March 2007)
Humans taste of bacon, says gourmet robot (10 November 2006)
Satnav orders German into toilet (24 October 2006)
Lizard Alliance targets Turkish PM (19 October 2006)
Washing machine attacks Icelander (9 October 2006)
Volkswagen unleashes 150mph self-driving car (4 July 2006)
Police arrest satanic BMW victim (20 June 2006)
Iraq grunts mourn loss of robot comrade (25 May 2006)
Bendy bus attacks Leeds cake shop (25 April 2006)
Captain Cyborg acquires Dalek capability (20 April 2006)
Man survives satanic BMW crash-and-burn (13 March 2006)
Second Freeview box signals alien invasion fleet (15 February 2006)
Lizard Army fuses woman with black helicopter (4 November 2005)
NRA probes Japanese sex android (26 August 2005)
Androids launch minicab firm (15 July 2005)
Beware the breast-examining hand of death (13 July 2005)
Lizard Army Neo-Mech menaces eBay (13 July 2005)
Vampire robonurses hunt in packs (6 June 2005)
Cornell Uni develops apocalypse cube (13 May 2005)
Sex android begats Armageddon machine (22 April 2005)
Man executes Chrysler (21 April 2005)
Rise of the man-eating cyberloo (24 March 2005)
Sobbing Frenchman recounts Renault Laguna terror ordeal (18 March 2005)
Fire-breathing bus attacks South London (14 March 2005)
Dyson unleashes self-replicating hoover (11 March 2005)
Battling teen crushes roboarm menace (8 March 2005)
French join motorised Lizard Alliance (22 February 2005)
Lizard Army develops copulating robot (11 February 2005)
We are Zogg: The Cuddly Menace (9 February 2005)
Lizard Army invades Alaska (27 January 2005)
London menaced by flaming DVD players (12 January 2005)
Killer hoover attacks Scotsman (24 December 2004)
Car self-destructs in assassination bid (17 December 2004)
The rise of the rat-brain controlled android (16 December 2004)
Boffins unleash robotic cockroach (15 November 2004)
Ukrainian teen fights the Rise of the Machines™ (13 October 2004)
Man in satanic Renault terror ordeal (7 October 2004)
Killer cyberappliances: Satan implicated (28 June 2004)
US develops motorised robobollard (29 April 2004)
Killer cyberloo kidnaps kiddie (22 April 2004)
Fire-breathing buses threaten London (24 March 2004)
Cyberappliances attack Italian village (11 February 2004)
Cyberloo blast rocks Stoke-on-Trent (10 February 2004)
Cyberkiosk assaults Spanish teenager (8 December 2003)
Hi-tech toilet caught on camera (19 April 2001)
Hi-tech toilet swallows woman (17 April 2001)