Review TV-on-Mac specialist Elgato's latest offering has two features it hopes will win over buyers: the MacBook Air-friendly size and its inclusion of the most recent digital video recorder software.
We think there's a third reason to buy: a superior aerial design. The Deluxe is tiny - smaller than any other USB TV tuner we've seen and quite a few USB Flash drives for that matter. Elgato's pitching the gadget at MacBook Air owners, who'll appreciate the fact that it fits into the skinny laptop's single USB port with room to spare.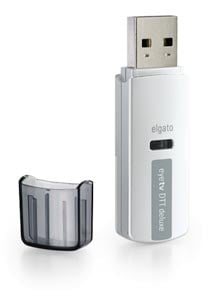 Elgato's EyeTV DTT Deluxe: world's smallest TV tuner?
And because it's only extends 2-3mm beyond the width of the connector on either side, it doesn't block other ports, on the Air or elsewhere. Elgato's new EyeTV DTT is cheaper than the Deluxe - £40/€50 to £60/€80 - but it may still block block ports on a laptop and is somewhat larger.
At the far end from the USB connector, you'll find the antenna socket, and here Elgato's done us proud. It's aerial improvement all round. Bundled with the tuner is the customary antenna. But it's been enhanced with a pivot that allows you to tilt it from the vertical to the horizontal and all angles in between. As usual, it has a magnet in the base, but that's not always helpful, so Elgato has also bundled a clip on suction cup.
That's not all - Deluxe buyers also get a second antenna, a tiny telescopic job of the kind you'll seen on any transistor radio.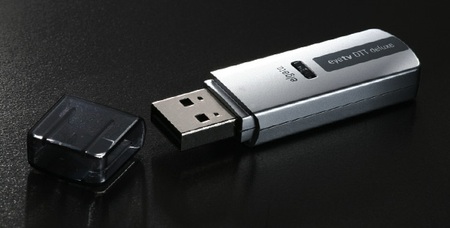 No bigger than a USB Flash drive
OK, so all TV tuners come with a least one antenna, so what's the big deal here? Well, we applaud Elgato for giving us a choice of aerial, but what really matters is that these new ones make for much better reception than the previous ones did.