Mayor Boris serves Governator cold revenge
'Schwarzenegger is a monosyllabic Austrian cyborg'
---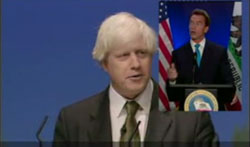 Taking the piss out of the machines: London mayor Boris Johnson gave himself a full year to stew over being mocked by California governor Arnold Schwarzenegger for rhetorical fluency. Ironic that.
While waiting to address the Tory conference in 2007 via video link, the Governator had whispered frank impressions of the then mayoral candidate's ongoing speech to his off-camera aides.
"He's fumbling all over the place," Schwarzenegger observed. Unfortunately, the critique was made over a live microphone. Hilarity ensued when videos of the gaffe made their way to YouTube.
Now that he's beaten Labour's Ken Livingstone for London's mayor, Johnson arrived at this year's Tory conference with a comeback for "Arnie" armed and ready.
"Thank you very much for the welcome," Johnson said. "Much more generous than 2006 when I was physically pelted with pork pies by the press corps or last year when my speaking style was criticised by Arnold Schwarzenegger."
"And it was a low moment, my friends, to have my speaking style denounced by a monosyllabic Austrian cyborg."
"But I can say now to Arnie that in spite of all his doubts and through there was a great deal of suspense until the final reel, Ken Livingstone was terminated."
Johnson may think he had the last laugh, but just wait until the Golden State elects a T-1000 model. Mimetic polyalloy don't care if the mic is on or not. ®
Similar topics
Broader topics