This article is more than 1 year old
Is Hitwise in the Phorm biz?
When ad targeters attack their own
Front Porch – a Silicon Valley startup offering a Phorm-like online ad system – has sued several companies for patent infringement, including NebuAd, Hitwise, and Microsoft.
The patent at the heart of this suit does not cover the sort of ISP-based behavioral ad targeting that Phorm, NebuAd, and Front Porch are now famous for. But it may point to other companies who've waded into similar waters - most notably Hitwise, a self-styled "competitive intelligence service" whose traffic monitoring software sits inside 30 ISPs across the globe, tracking the online behavior of 25 million people.
In mid-July, just as the stateside controversy over NebuAd's ad targeting reached its peak, Front Porch filed a federal suit under the name Pagemelding Inc., one of its subsidiaries.
Front Porch CEO Zach Britton and co-inventor Derek Maxson own a US patent entitled "Method and apparatus for dynamically forming customized web pages for web sites." Basically, it describes a means of serving up customized pages and ads to customers of a particular ISP.
"ICPs [Internet Content Providers] can...attract Internet traffic from organizations that have direct access to the Internet," the patent reads. "There is, therefore, a need for a method and apparatus which enable an ICP to dynamically form customized web pages for ISPs and organizations that have direct access to the Internet.
"There is another need for a method and apparatus which enable an ICP to dynamically select advertisements to be included in customized web pages."
The idea is quite simple. You check a user's address, and if the address originates from a particular network location, you customize pages accordingly.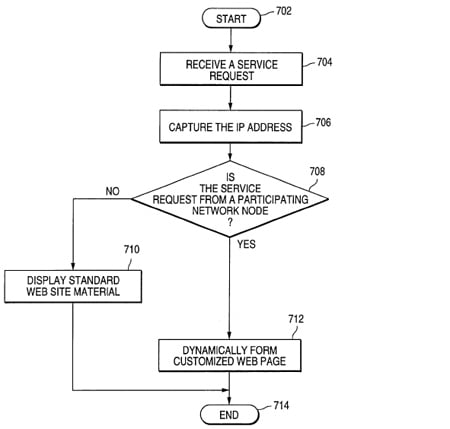 How Front Porch customizes ISP web pages
With its suit, Front Porch accuses five companies of violating this patent: Feeva Technology, Hitwise USA, Kindsight, Microsoft, and NebuAd. "This lawsuit is intended to enforce our patented technology against a number of recent infringements," Front Porch CEO Zach Britton told The Reg, declining to elaborate.
At the time of writing, Hitwise and NebuAd were the only defendants who responded to our requests for comment. And both said they would not comment on pending litigation.
Like Phorm in the UK, NebuAd has received considerable criticism over the past several months for deploying its ad targeting system on several American ISPs without providing adequate notice - never mind requiring an opt-in. After a request from Congress, ISPs say they've suspended use of such systems, and NebuAd says it has temporarily turned its attentions to other technologies.
Using deep packet inspection, the company's ISP-level hardware tracks a web surfer's search and browsing activity and shuttles it to various advertising networks, where it's used to target ads. If you search for, say, French vacations, you'll soon see ads for French vacations. The company says each user's IP is anonymized, but US law may still require an opt-in.
Front Porch offers a similar system, and it too has been put on hold as Congress investigates behavioral ad targeting. But Britton has always told The Reg that unlike offerings from Phorm and NebuAd, his system is opt-in only and does not use cookies.
With its suit, Front Porch is not accusing NebuAd - or any other company - of mimicking the way it tailors ads according to user search and browsing habits. But the suit does indicate that each defendant is somehow altering web pages or online advertisements. We all know that's what NebuAd does (or did). But what about the other four?