Multimillionaire tech visionary Elon Musk has finally achieved a long-sought goal on the fourth attempt, as his privately-funded SpaceX Falcon 1 is now circling the Earth. The rocket, launched from Kwajalein Atoll in the Pacific, reached orbital velocity at 00:26 UK time.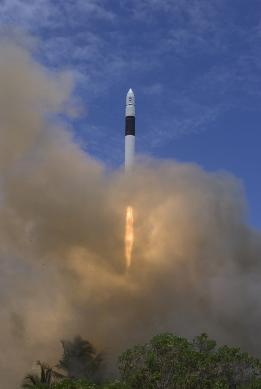 The pocket rocket which everyone's glad to see.
"This is a great day for SpaceX and the culmination of an enormous amount of work by a great team," said Musk, who is CEO and CTO of SpaceX.
"The data shows we achieved a super precise orbit insertion—middle of the bull's-eye — and then went on to coast and restart the second stage, which was icing on the cake."
The Falcon 1 is an entirely new rocket, designed from scratch by SpaceX with a view to providing reliable and cheap access to space for smaller satellites. In this case it carried no payload, just a hexagonal aluminum alloy "payload mass simulator" massing approximately 165 kg. The company is also working on a bigger rocket design, the Falcon 9, which could carry astronauts into space in future using the planned "Dragon" capsule.
Today's success won't merely gladden hearts at SpaceX. The US space agency, NASA, expects on current plans to be without any way of launching its astronauts into orbit from 2010. The new generation of manned NASA ships - the Ares rockets and Orion capsules - are supposed to come on line in the middle of the next decade, but delays to those programmes have already occurred.
NASA will be pleased to see Musk's private space effort getting back on track, as it expects to buy space lift from him under so-called Commercial Off The Shelf (COTS) procurements.
More details of the launch are available from SpaceX here - with video soon, according to the company. ®
Similar topics