Opinion The game Fortnite should be banned, according to Britain's own Prince Harry, because it's "addictive" and "irresponsible."
"The game shouldn't be allowed," he told mental health experts while visiting a YMCA in West London, arguing that parents don't know what to do about their youngsters' addiction to the game.
He went on: "Where is the benefit of having it in your household? It's created to addict, an addiction to keep you in front of a computer for as long as possible. It's so irresponsible."
The Duke, who is sixth-in-line to the throne, also slammed social media during the visit, arguing that it is "more addictive than drugs and alcohol" despite the fact that he and his wife launched an Instagram account earlier this week amid great fanfare.
The Prince's comments serve as a periodic reminder that despite an enormous effort and the seemingly bottomless goodwill of the UK press and general public, the Royal Family remains dedicated to its core mission of remaining firmly out-of-touch while considering itself to be a moral and ethical guiding light for a society that continues to pay for its gilded existence out of some combination of longing for past glories and pity.
Fortunately, the rest of Prince Harry's life serves as a perfect template and example for the youth of Britain who may otherwise be sucked into the dark recesses of computer games.
One of the things parents are most concerned about with Fortnite is the constant violence: even though it is cartoonish, it does still comprise, at its core, of people shooting one another.
Harry is no stranger to violence, having been in the army but he's also willing to inflict it on others, including animals and allegedly photographers. Just a few years ago, man-of-the-people Harry was criticized for continuing to ride his horse in a game of polo after he had caused it to bleed after repeated stabbing in the horse's side with his spurs.
Perhaps London teens should consider playing polo in their spare time. Get out the house and into the fresh air. It is surprisingly affordable: just a few tens of thousand pounds will get you all the gear you need. And you don't even need your own horse, you can rent other people's steeds.
Selfie
Of course, one of the problems with social media is people talking photos all the time. It induces vanity and can damage self-esteem. Which is why Harry has taken a firm line and was accused of attacking a photographer while leaving a nightclub.
One of the biggest problems with playing Fortnite is that it doesn't provide much of an opportunity to take drugs: something Harry has significant experience. Harry has admitted to "experimenting" with cannabis at his dad's estate at Highgrove, at private parties in Gloucestershire and in an outbuilding at a local pub.
And if you had any doubt that Harry doesn't have a highly informed view of addiction, consider this: he spent some time in rehab for his alcohol and cannabis habits. And by time, we mean a single day.
His father sent him to the center after Harry admitted to having repeatedly "experimented with marijuana." He managed to display its remarkable understanding of modern ills by saying in a statement that "a large number of heroin users have, over the years, told the Prince of Wales that they started on cannabis."
And then there are the concerns that Fortnite may damage children by allowing them to associate themselves with violent characters. In the game you can dress your character in any number of aggressive or disturbing outfits.
Harry knows all too well the risk that comes with that having faced undue criticism for dressing as a German soldier during a friend's costume party, complete with swastika armband. As his team quickly pointed out (every teenager these days has their own coterie of PR folk and security, right?), he was not dressed as a Nazi per se, but was wearing the German Africa Corps uniform.
Some more conservative parents of Fortnite players are also concerned that players can dress up as members of the opposite sex, which they believe could have an impact on their sexuality. Harry has first-hand experience of these fears, having been pictured in a bra and skirt at parties of exclusive society clubs where his close relationship to alcohol was also celebrated.
Finger licking good
Such is the prince's evolved view of the risk of dressing inappropriately that he has often eschewed clothes altogether, most notably being pictured stark-bollock naked in Las Vegas during a game of strip billiards as well as jumping on top of another naked person. But it's Fortnite that's a problem apparently.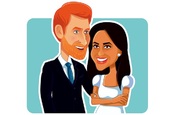 We've found it! A cloud-and-AI angle on the royal wedding
READ MORE
And finally, another terrible damaging side effect of playing Fortnite is that is encourages some users to cheat. The game is so hard to win at that many take to finding and installing software cheats that help them defeat others who are better at the game, having worked harder and practiced.
Harry knows all too well the slippery moral slope that can lead to cheating, having done exactly that to pass exams at school. And by school, we mean to say the near £14,000 per term Eton elite boarding school that you can't get into even if you have the money.
A former teacher at Eton claimed that she had helped Harry pass tests. The school fired her, claiming it was all her idea, but unfortunately she had recorded her conversations with the Prince and soon after won her case against the school for wrongful dismissal.
While the rest of the House of Windsor doesn't have the foggiest idea how the real world works, Harry knows all about violence, cross-dressing, and drug use. So when he says Fortnite is a bad influence and encourages irresponsible behavior, we should listen, because if anyone knows about being a bad influence it is Prince Harry. ®