This article is more than 1 year old
Carphone Warehouse Webbook
The best value Small, Cheap Computer?
Review The Elonex-made Webbook is a medium-sized machine, built around a 10.2in screen, and so goes up against the Asus Eee PC 1000 and the MSI Wind/Advent 4211, but at a lean price of £249.
The form-factor of Small, Cheap Computers is still rather fluid, with the original Eee 701 and the Fujitsu FMV Biblio U/B50 showing there's a market for machines with screens as small as 5.2in, through 7in to the current sweetspot of 8.9in and on to the only slightly larger 10.2in. With the number of models coming out at this size, it looks as if it could be where the mid-range settles.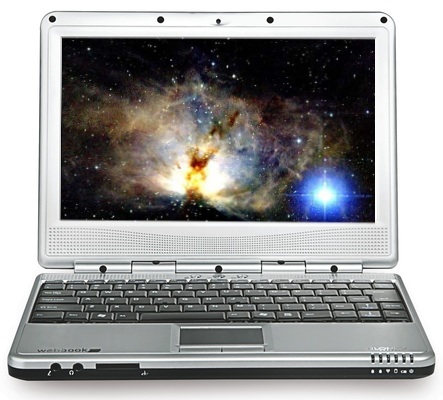 Carphone Warehouse's Webbook: small and cheap
Quite what operating system the Webbook is supplied with can also vary. It used to be that if you bought from the Carphone Warehouse website, you would get one of an initial batch with Windows XP Home SP3 pre-installed. If you bought it over the counter, however, you'd get Ubuntu Hardy Heron and pay around £50 less.
It now appears the machine will be going primarily Windows XP at a price of £274. Yes, the headline figure on CW's website is £249, but you need to add a £15 delivery charge on to that. In any case, when you actually click to purchase the machine, you find you'll be paying £274, albeit minus the delivery charge.
If CW can't display consistent pricing, it's hard to recommend the Webbook on that basis, let alone the quality of the hardware. To muddy the waters further, the Webbook was originally offered by Carphone Warehouse to use as an incentive to encourage punters to take out a mobile broadband contract. You can still buy it bundled for free with a USB 3G modem and a two-year, £25-a-month Orange airtime contract.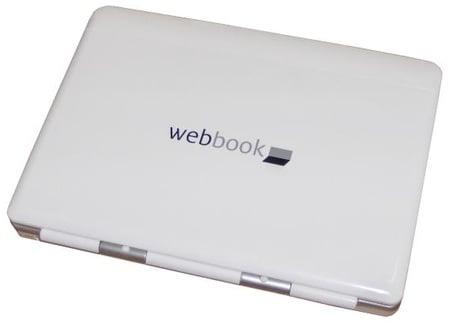 The name's on the lid, in case you forget
Glossy white is the new glossy black, and the Webbook is available in both, with silver surrounds to screen and keyboard. There's no catch to hold the case shut, but the hinge is stiff enough to keep it closed or, indeed, open. With a weight of just 1.3kg, it's easy to carry around and slip into almost any bag. You'll probably need to carry the charger too, though, once you've read the battery life results.