Toshiba has taken the wraps off a 256GB solid-state drive, though the unit's not set to become widely available until Q4.
The 256GB unit follows the laptop-friendly 2.5in form-factor and is based on the multi-level cell (MLC) Flash design.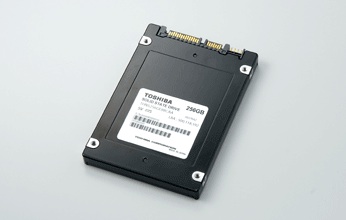 Toshiba's 256GB SSD: fast?
Toshiba claimed the drive delivers a maximum read speed of 120MB/s and maximum write speed of 70MB/s over its 3Gb/s SATA interface.
Joining the THNS256GE8BC in mass-production in Q4 are a trio of 50 x 30mm modules aimed at Small, Cheap Computers. They'll be available in 8, 16 and 32GB capacities and again use 3Gb/s SATA as the linkage technology. Toshiba said their maximum read and writes speeds were, respectively, 80MB/s and 50MB/s.
Toshiba did not say how much it plans to charge for all of these items.
Intel X-25M SSD review