This article is more than 1 year old
Western Digital ShareSpace 4TB NAS box
NAS for the non-geek?
Review Western Digital has been selling external hard drives for ages, most notably its MyBook range. That line-up has included NAS boxes, the MyBook World Edition series, but now, here comes their big brother.
There's a sense in which the networkable MyBooks are simply multi-users hard drives ready for backing up and file swapping in the home. The ShareSpace, on the other hand, is a more serious storage appliance.
Take storage size. The World Edition II tops out at 2TB, but that's entry-level for the ShareSpace, which is also available with a stonking 4TB of raw disk capacity. You can take the drives out of the WE II, but it's not a straightforward process. Swapping out drives from the ShareSpace is easier. It also supports four RAID modes to the WE II's two.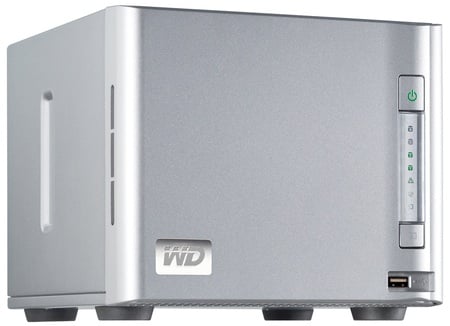 WD's ShareSpace: sober looks
The ShareSpace is a squat box with a minimalist dark-grey metallic look that's rather more sober than the shiny silver styling of rival NAS boxes like Netgear ReadyNAS NV+, or iPod-like consumer-oriented black and white the WE II comes in.
The faceless front panel is home to a USB port above which sits a button that triggers an automatic back-up to any sufficiently capacious external hard drive connected to that port. Moving upward, there's a cluster of indicator LEDs and the power key.
Round the back, alongside a large fan outlet sit two more USB ports, the Gigabit Ethernet port and, further down, the power socket. There's a Kensington lock slot too. The AC adaptor isn't built in - it's a separate brick that, for us at least, came with a European power cable.
Fortunately, we had a UK lead handy. Plugging it in, we were pleasantly surprised to find said cooling fan runs extremely quietly, especially compared to the gale blowing out of the back of our ReadyNAS NV+. It's not silent: drive noise echoes around the inside of the shell, but it's still one of quietest NAS boxes we've tried.