This article is more than 1 year old
Western Digital ShareSpace 4TB NAS box
NAS for the non-geek?
We hooked the ShareSpace up to a TimeCapsule, taking advantage of the router's Gigabit Ethernet ports. We also wired up a MacBook Pro, which also has Gigabit Ethernet. Copying a 10.59GB folder containing 180-odd sub-folders and more than 3300 files from the notebook to a shared folder on the ShareSpace yielded an average throughput of 70.73Mb/s.
ShareSpace Data-transer Test Results

Average data transfer rate in Mb/s
Longer bars are better
Copying the same folder to the TimeCapsule came in at 70.4Mb/s. So an impressive result for the ShareSpace, given that the Apple unit has a 7200rpm drive in it.
The data rates were averaged over three runs. As a worst-case scenario, we also copied the folder to the NAS box across 802.11g Wi-Fi. To put the Gigabit Ethernet speed into perspective, the wireless transfer came to just 17.5Mb/s.
ShareSpace Data-transer Test Results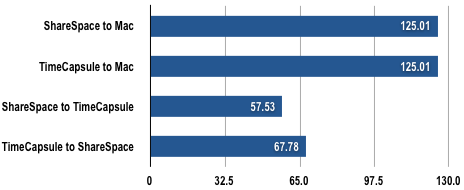 Average data transfer rate in Mb/s
Longer bars are better
Fully provisioned with 4TB of storage, the ShareSpace will set you back £563 - the 2TB model's £480. That compares very favourably with the £1500 you'd spend for a 4TB ReadyNAS NV+. The ShareSpace offers four times the storage a £329 1TB TimeCapsule will provide, and twice the capacity of WD's own £329 MyBook World Edition II 2TB.
Which is best depends entirely on your needs. The MyBook WE II is more straightforward, ideal for adding a chunk of shareable storage onto your network. It'll let you mirror a drive for redundancy at the cost of capacity. The ShareSpace builds on that with greater capacity, more RAID options, easier access to the internals and a less consumery look. Beyond that, there's no significant increase in functionality.
Verdict
ShareSpace isn't everyone's NAS box. Geeks will prefer something more powerful, like the ReadyNAS, while Mac users will no doubt rather have something more Mac friendly, like Data Robotics' DroboShare or Apple's own TimeCapsule. We found the WD box to be a decent small office or home network storage unit, if a little uninspiring. It's weak on access from beyond the LAN, and it lacks consumer friendly features like an integrated BitTorrent client, but it deserves praise for running cool and, crucially, quiet.

Western Digital ShareSpace 4TB NAS box
ShareSpace runs quiet and packs in plenty of (fault-tolerant) storage space, but in a bland yet business-friendly way. NAS for non-geeks.
Price:
£480 (2TB) £563 (4TB) RRP