Microsoft's Hotmail hybrid struggles to life
'Classic' meets 'full,' fails to show
---
The long-awaited merger of Microsoft "classic" and "full" Hotmail services has got off to spotty and painful start.
Hotmail users are complaining of confusing layouts and cumbersome features, and calling for a return to the exiting version of Microsoft's email service. That's users who can get the new Hotmail, of course, as many others remain stuck with the clunky old service.
The Hotmail update was announced last week, and it appears to have fallen short of the Salesforce.com- or Google-style flip-the-switch global roll-out, leaving users wondering what exactly is going on.
Instead of seeing this: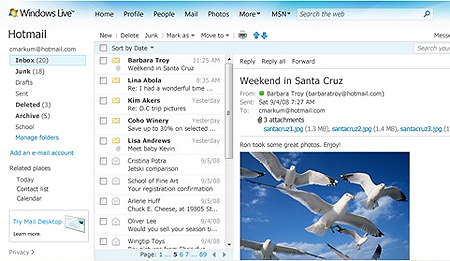 Many are still getting this:

Microsoft had promised that, under the update, Hotmail would combine the lumpen "classic" and "full" versions of Hotmail, featuring a reading pane and drag-and-drop capabilities among other features previously off limits to classic users. Microsoft also promised fast page loads for users of the "full" service.
Readers on Liveside.net who have experienced the new service are are up in arms over those new features. Complaints range from poor and confusing layout - with the inability to find folders - missing or difficult functionality including problems forwarding email and error messages when opening emails. It's unclear whether issues are a continuation of inability in the past of Hotmail "classic" to work recent versions of Firefox or Linux, notably Ubuntu.
The new service is supposed to usher in a new era (new for Microsoft at least) of writing emails - with a new auto complete, text editor and spell checker, new folders for storage, and the ability to show pictures with your contacts and display the most recent email communication. ®