Emails show journalist rigged Wikipedia's naked shorts
Overstock's Byrne vindicated amidst economic meltdown
---
AntiSocialMedia
This uncanny tale was uncovered by a former freelance journalist named Judd Bagley, who now serves as a kind of personal researcher for Patrick Byrne. For a while, he drew a paycheck from Overstock.com, before moving to a Byrne-funded company called DeepCapture. Yes, DeepCapture. Byrne has a flair for the overly dramatic.
Writing from the pages of a makeshift website known as AntiSocialMedia.net, Bagley has accused Gary Weiss of not only rigging Wikipedia but flooding countless blogs and stock message boards with anonymous vitriol meant to undermine Patrick Byrne and his views on naked shorting. And he says that Weiss has worked in tandem with several others, including a man named Floyd Schneider.
Initially, Bagley's evidence was circumstantial - a hodgepodge of email addresses, net handles, and IP addresses that pointed to certain individuals without actually pinning them down. But in April 2007, he was contacted by Floyd Schneider's brother, Roger Schneider, a New Jerseyian who ran a local branch of the mortgage brokerage house Nationwide Equity.
Roger Schneider had recently fired his brother from the Ramsey, New Jersey Nationwide office, and he was sitting on Floyd's work PC - which was packed with several thousand email messages. Patrick Byrne soon paid Roger Schneider a visit, and Schneider gave him the machine. Byrne offered $10,000 in return, but Schneider declined.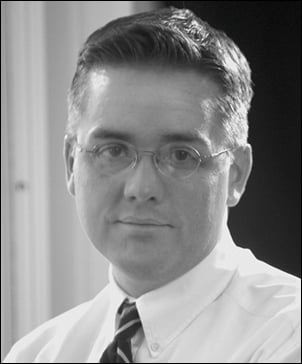 Judd Bagley
Emails lifted from the PC include correspondence between Floyd Schneider and Gary Weiss, and in one exchange, Weiss clearly indicates he has just edited Wikipedia's article on naked shorting. The text of the article - including the changes he made - is attached to the message.
Wikipedia's on-site records show that these changes were made by the Mantanmoreland account, and changes made just hours earlier came from the IP address in the header of Weiss emails. In short, Weiss' first Wikipedia edits were made before he created an account, then he got wise and hid his IP behind a pseudonym.
The Register first reviewed these emails in December, just before publishing our initial story on the Patrick Byrne-Gary Weiss saga. But at the time, Roger Schneider did not want the emails made public. He has now told us he's comfortable with his story being told.
Similar topics
Broader topics