Interwebs page channels Palin twaddle
Artificial intelligence ineptitude
---
US vice presidential candidate Sarah Palin doesn't give many interviews. They tend to expose her inability to form coherent sentences.
Just one example:
Katie Couric: Why isn't it better, Governor Palin, to spend $700 billion helping middle-class families struggling with health care, housing, gas, and groceries? Allow them to spend more and put more money into the economy? Instead of helping these big financial institutions that played a role in creating this mess?

Sarah Palin: That's why I say, I like every American I'm speaking with we're ill about this position that we have been put in where it is the tax payers looking to bailout. But ultimately, what the bailout does is help those who are concerned about the health care reform that is needed to help shore up the economy. Helping the - Oh, it's got to be about job creation too. Shoring up our economy and putting it back on the right track. So health care reform and reducing taxes and reining in spending has got to accompany tax reductions and tax relief for Americas. And trade. We've got to see trade as opportunity, not as a competitive scary thing. But 1 in 5 jobs being created in the trade sector today. We've got to look at that as more opportunity. All those things under the umbrella of job creation. This bailout is a part of that.
But for all of you who find her ineptitude wonderfully entertaining, you can now generate your very own Sarah Palin interviews via the magic of the interwebs. All you need is a browser and a visit to InterviewPalin.com. Using state-of-the-art artificial intelligence ineptitude technology, InterviewPalin.com instantly generates rambling, incomprehensible answers to even the simplest of questions.
Just one example:
Question: What is your foreign policy experience?

Answer: Alaska that we will be committed to the mission, the mission that we're seeing today, you know that something is broken and John McCain has a great plan to get people to understand that the example that you can't blink. You have to be able to commit to never letting that happen again. I agree with taking the fight to them. We never again let them come over here and attempt again what they accomplished here, and that has much to do with foreign policy and national security issues. Let me speak specifically about a credential that I worked on as chairman of the Alaska Oil and Gas Conservation Commission, overseeing the oil and gas development in our state to produce more for the United States of America, where where do they go? It's Alaska.
Ah, but the site's Markov answer chains - generated "based on probabilities calculated from Sarah Palin's actual speech" - aren't nearly as amusing as the ads Google serves up just below: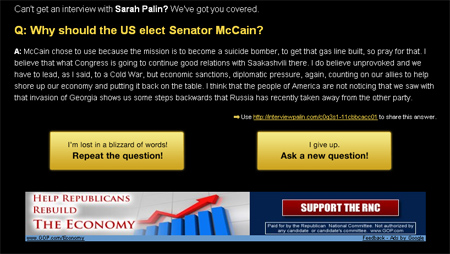 InterviewPalin.com (Ads by Google)
You might think Google has a sense of humor. But the truth is that Mountain View's ad algorithm are more rubbish than the company would lead you to believe. ®