HP preps secret iPhone rival
Everyone loves a parade
---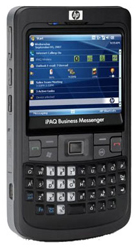 Only more consumer-y
Hewlett-Packard plans on keeping up with the Joneses by releasing a smartphone marketed to consumers within the next two months.
At least, according to Wall Street Journal, which cites unnamed sources briefed on HP's latest foray into the increasingly crowded smartphone market.
The new device will fall into the HP iPAQ line that has been punting Windows Mobile Smartphones for business use for the last year or so.
Details on the consumer mobile are nearly nil aside from it having a touchscreen, keypad, and running Windows Mobile 6.1, according to the WSJ. The phone will likely hit European retail stores by the end of 2008 and be released worldwide soon thereafter.
HP joins Apple, Nokia, RIM, Google with its Android platform, and - in all likelihood - a future host of big name companies slavering over the success of the iPhone in the consumer market. ®