What would you hear if you were on Mars? A slight hiss from whatever wind there might be and then your own death rattle, probably - but the Phoenix Mars Lander is aiming to find out what other sounds the red planet has to offer.
The Lander has a microphone, fitted as part of an imaging system that was going to take photos as it descended to the Martian surface. It wasn't switched on because it might have endangered the landing.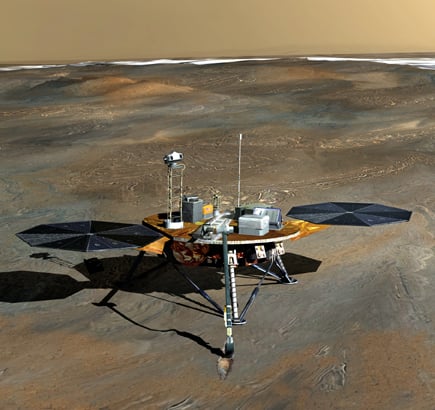 Imagined image of the Phoenix Lander probe on the surface of Mars.
The Lander did plonk down successfully on May 25, and the mission staff have now got funding to switch the mike on and process its signals. The omens aren't good, though.
To start with, the mike is a simple cell phone-like mike, not a high-fidelity one. Secondly, the Martian atmosphere is thin, having the density at the planet's surface of Earth's atmosphere 100,000 feet up (30,500 metres), more than three times the height of Everest.
That means any sound waves won't be as strong as on Earth and won't travel as far. Somebody on the surface 20 feet away from you could be talking and you wouldn't hear a thing, just see their lips moving.
The mission controllers plan to switch the mike on and see if they hear the Lander's tools working away at the Martian surface. If they can pick up sounds like a shovel passing through gritty sand or scraping a rock, then they'll try listening when the Lander's tools are idle.
The imaging system will also be switched on and take pictures of dust sticking to the Lander's legs. These have apparently, and mysteriously, moved around on the legs and been described as quasi-barnacles. As opposed to authenti-barnacles, presumably. ®