Asus Eee PC 1000 10in Linux netbook
The Eee family expands - literally
Review Asus missed a trick when it released the Eee PC 901: it didn't incorporate a bigger keyboard than the one on the Eee 701. Had it done so, there wouldn't perhaps be a need for the 1000.
Yes, the 1000 comes with a larger, 10.2in screen, but with the display's 1024 x 600 resolution matching that of the 8.9in panel built into the 901, and with an otherwise identical specification, what the bigger machine really brings you is nothing more than a more adult-friendly keyboard.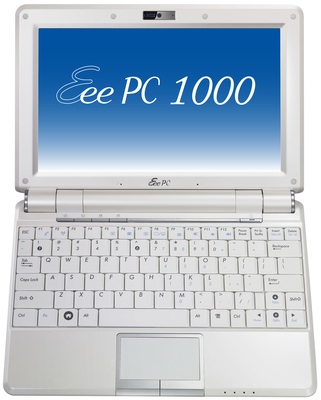 Asus' Eee PC 1000: just like the 901, only bigger
We'll look at how successful the expanded input device is in a moment. First, let's look at the 1000 in the round. It's identical to the 901, only larger, magnified to make room for the bigger screen and keyboard.
You can see from Register Hardware's Netbooks Spec Table that the 1000 is one of the larger 10.2in SCCs, coming in slightly longer, deeper and taller than its nearest rival, the MSI Wind - and it feels bigger when you carry it too. Cast a glance in its direction and you might mistake it for a 12in notebook.
Asus hasn't used the space to deliver more portage: there are still three USB 2.0 ports, a VGA out, a 10/100Mb/s Ethernet connector, SDHC card slot and analogue audio socketry. The chunky 6600mAH is the same capacity as the one on the smaller 901.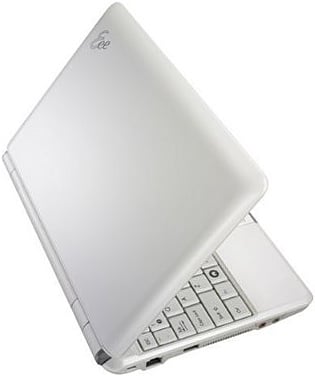 Larger chassis, but standard SCC spec
The other internals are much the same too: 1.6GHz Atom N270 processor, 1GB of DDR 2 memory, Intel integrated graphics, 802.11n Wi-Fi, Bluetooth and 1.3-megapixel webcam. The bigger box buys you a more solid-state storage: 40GB to the 901's 20GB, comprising an 8GB 'fast' SSD for the OS and apps, and 32GB of slower but cheaper storage for your data.