Windows Update to trumpet Vista Capable debacle?
Class-action call up
---
Little did Microsoft executives realize when they blessed the seemingly brilliant wheeze of "Windows Vista Capable" as a way of flogging the operating system that the idea could turn into a bitter pill their company might have to swallow.
But there's the very real possibility Microsoft's very own Windows Update and MSN could be forced to carry ads promoting a class-action lawsuit against Microsoft. Plaintiff lawyers in the suit are calling for people who felt they were misled by the whole Windows Vista capable sticker idea.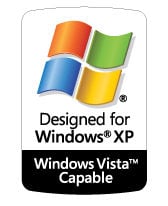 Attorneys in the Windows Vista Capable class-action lawsuit have reportedly asked a US federal judge that Microsoft's Windows Update be forced to notify potential class-action members. They've also asked for banner ads to appear on MSN in addition to Yahoo! and full-page print ads in news comic USA Today.
The plaintiff's legal team has acted saying Microsoft has repeatedly said it cannot identify those who purchased PCs under the Windows Vista Capable program that ran in 2006 and 2007. "Although Microsoft cannot identify class members, it can communicate to them through its Windows Update program," the court motion said.
The Windows Vista Capable lawsuit claims buyers were deceived because machines featuring the Windows Vista Capable sticker would only run the most basic version of the operating system - Windows Vista Home Basic Edition. Machines were not able to run the features Microsoft had marketed to people in the full operating system.
Increasingly, it seems the blame for the Windows Vista Capable idea must be laid at the doorsteps of Microsoft's then-co-president (platforms products and services Jim Allchin) and Microsoft's then senior vice president (windows client business Will Poole) - both of whom have now left Microsoft. ®