NASA's plans for a huge, nuclear powered laser-toting robot tank to succeed the present rovers on the surface of Mars have hit budget problems, according to reports.
The Mars Science Laboratory mission is currently planned by the space agency to lift off late next year and reach the Red Planet in the autumn of 2010, there to spend a full Martian year (almost two terrestrial ones) seeking out signs of life.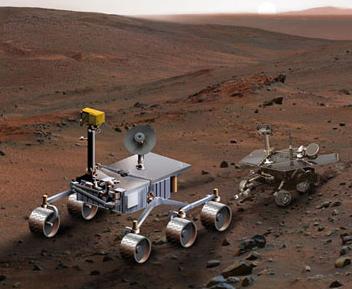 New hotness; old and busted.
But Aviation Week now reports that senior NASA officials believe that the project is likely to go over budget, and that the 2009 launch slot is unrealistic. It appears that the new planet-prowler has already cost $1.5bn, and may soon hit a cost overrun threshold that could trigger cancellation by Congress.
There are also worries that getting the troubled Mars machine away on time would be such a rush that it might not work properly, even if enough funds could be found in the short-term budget. Doug McCuistion, Mars Exploration manager for NASA, even told Av Week that a "nuclear crater on Mars" might result from issues with the MSL's planned radioisotope generator - a nuclear battery. (One of the main limits on the current rovers is the limited amount of power they get from their solar cells.)
The troubles at NASA might see the new crawler delayed until 2011, or even cancelled altogether.
If it flies, however, the MSL will certainly be an impressive piece of kit. It will deploy by lowering on a cable beneath its retro-rocketing, parachuting lander spacecraft. Its radioisotope power source will enable the use of powerful grinders and crushers, able to powder tough Martian rocks for analysis, and a laser able to "vapourise material" up to 10 meters off - for spectrographic analysis, of course.
If any heretofore undetected Martians give the machine any trouble, it would certainly seem capable of looking after itself - assuming it ever gets there. NASA chief Mike Griffin and other bigwigs are set to receive a briefing next week.
The Av Week report is here, and more from NASA on the MSL is here. ®