Axmark quits Sun cos he 'hates' working for the man
'Rules suck', says MySQL co-founder
David Axmark, co-founder of MySQL, has quit Sun Microsystems because he "hates" all the rules he has to follow at the company.
"I have thought about my role at Sun and decided that I am better off in smaller organisations," wrote Axmark in his resignation letter, according to a blog post from Sun flack Kaj Arnö.
"I HATE all the rules that I need to follow, and I also HATE breaking them. It would be far better for me to 'retire' from employment and work with MySQL and Sun on a less formal basis."
Sun acquired MySQL in January when it bought the open source database developer for $1bn.
Axmark co-founded MySQL with Michael "Monty" Widenius, who set tongues wagging in September when reports suggested he was mulling his future with the firm.
Monty – the primary architect of the original MySQL database – has spent the past "several years" contemplating a move that would allow him to concentrate on engineering the MySQL server, according to a previous blog post from Arnö.
Axmark's decision to quit the company will come as a huge blow to Sun, which in August lost the longtime head of MySQL's Japan business, Larry Stefonic, after five years with the outfit.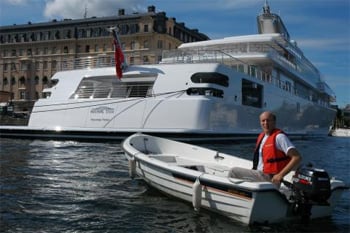 Some might conclude that the continued exodus of key MySQL players could suggest that all is not well at Sun HQ. Arnö, however, is doing his face-saving best to accentuate the positives about Axmark's decision to walk.
"I wish David would have stayed longer at Sun, but I understand why he decided to resign and I respect his decision.
"I'm happy he's fine with working as a consultant for Sun, doing speaking engagements and connecting us with his huge network. It's very much appreciated," said Arnö, who also pointed out that Larry Ellison's boat is bigger than Axmark's.
We'll leave you to work out what that all means. ®