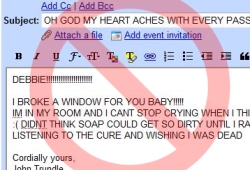 The forward-thinking folks at Google have implemented a novel solution to prevent regretful drunken digital correspondence to friends, family, co-workers, and loved ones.
Gmail engineer Jon Perlow is introducing Mail Goggles, a new feature that will tease the bean before ill-conceived late night and weekend emails can be sent out.
Mail Goggles are presently available in the Labs tab on Gmail settings. Once activated, users can select the days and times when they're most likely to be recreating in a fashion unsuitable for CC'ing the entire office. Default settings are the tender hours between 10 PM and 4 AM on Fridays and Saturday.
Before an ill-conceived email is allowed to make its rounds, Mail Goggles offers the constitution a checkup by asking a series of math problems that must be solved in 60 seconds. Several levels of difficulty are available for drunken savants.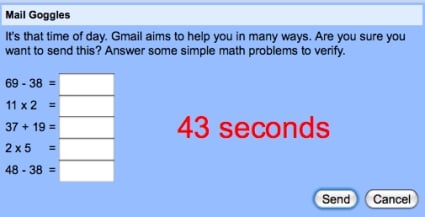 Image courtesy Google
While there's still no cure for the (scientifically quantifiable) "Beer Goggles" effect, at least now Sarah, Hideous, and Bent are less likely to be conjured from the painful past due to an inadvisable excess of spirits.
On that note: Google should definitely extend this thinking to Android. Lonely late night calls can be just as dangerous. ®