Portable media players are putting a growing number of pedestrians in danger, UK insurance firm Swinton has warned.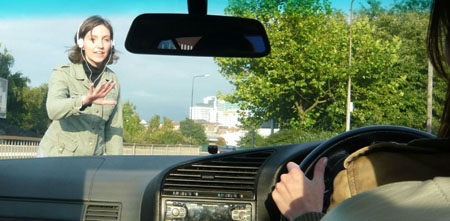 "Watch where you're f***ing going!"
It defined a "podestrian" is anyone who listens to an MP3 player or phone while they're out and about, and are so immersed in the musical experience or their conversation that they don't pay attention to their surroundings and the risks they pose.
The Insurer identified not only high sound volumes but also the increasing use of noice-canceling and noise-eliminating headphones as a factor in the rise in accidents involving podestrians.
Swinton claimed that it's seen "a significant increase" in the number of drivers citing podestrians as a factor in insurance claim forms for minor accidents.
According to Swinton, podestrians currently account for about nine per cent of minor accidents involving sudden braking or shunts. Some 62 per cent of podestrians are identified as kids or teenagers.
The most common podestrian-related scenario is when one steps out into the road without looking properly, their music masking the sounds of oncoming traffic. When such movements are combined with texting the problem becomes even worse, Swindon said.
Mind you, how many claimants have simply blamed accidents on iPod users because they're an easy target isn't known.
Police in New South Wales, Australia have already identified the same problem and this year launched a series of hard-hitting adverts showing the lifeless bodies of MP3 player owners lying in roads. Each corpse was outlined with a white headphone cable, instead of the traditional white chalk mark.