Judge Dredd smartshell shotguns to hit Iraq in '09
'XM-25' wireless airburst slugs hit round corners
It's quite difficult to make guns - portable ones, anyway - convincingly hi-tech. Sure, you can add a laser sight, you can attach all kinds of crazy lights and optics, you can even have a boresight camera and helmet heads-up display for shooting round corners without sticking your neck out*. But at the end of the day it will still, basically, be a gun. Lumps of metal driven by expanding gas will fly out of the end at high speed, and make holes in things or people which they hit.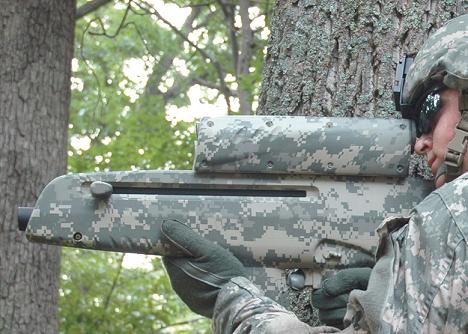 You'd better be hiding around two corners these days.
Judge Dredd, one of relatively few sci-fi gunmen to stick mainly with projectiles rather than moving to rayguns of some kind, does a bit better. Placing Justice Department boot to perp arse on the mean streets of Mega-City One, he uses implausibly reliable voice commandware to select different types of ammo for his Lawgiver pistol. In some of the stories he had extremely exotic rounds available, too - rubber ricochet bullets for tricky bank shots, high-explosive warheads, even infrared heat-seekers. But mostly it was just bullets.
That's generally how it's been in the real world, too. Most small-arms manufacturers reckon it's a good day if they can make a shoulder weapon which will shoot fairly ordinary bullets accurately and not need too much maintenance. Sometimes they can't manage even that. Generally speaking, even the most fashionably equipped soldiers and cops today are still armed with weapons which were on offer sixty years ago and more - assault rifles or carbines, submachineguns, low-velocity grenade launchers of one kind and another, light machine guns.
There is a bewildering array of portable missile and rocket launchers, but these are generally meant for shooting up aircraft, vehicles or buildings - not people. For that, you're normally still firing boring old kinetic energy bullets, devoid of any major differences from those of World War II and earlier. (One might say that nothing much has changed since the late 19th century, unless you happen to be a gun dork and up on all the intermediate-power cartridges guff.)
But those who like a bit of mad science fiction technology in their gun news will be pleased to hear that - according to reports - a long-stalled 1990s plan to kit out US soldiers with a truly wack new firearm has come back to life.
Essentially, the idea is to have a gun which shoots special, extra-big 25mm slugs - sort of a cross between a normal bullet and a 40mm launched grenade. The projectile is thus big enough to put clever stuff in it, but small enough that a weapon carried by a normal person can shoot it a long way without the recoil knocking the user flat. (Everyone loves 40mm grenades, but they are so tubby that a shoulder launcher of reasonable weight and recoil can't throw them very fast - hence not very far either).
What you put in your big fat .98-calibre** slugs is a small HE-frag warhead - but that's not the clever bit. The clever bit is the electronic precision time fuse, which is set wirelessly by the gun's systems at the moment of firing. This means that the slug will explode at exactly the distance from the muzzle you want.