This article is more than 1 year old
Apple rattles legal sabre at Canadian tech school
Logos too similar, computer giant claims
LogoWatch Apple is none too pleased with the Victoria School of Business and Technology in Vancouver, which has for the last three years or so used a logo which the computer giant claims is too similar to its own brand frontage.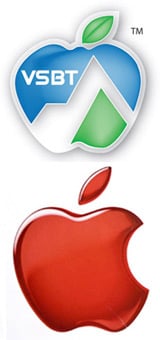 According to Canada's Globe and Mail, Apple has threatened the educational establishment with litigation, while the latter has vowed to fight to keep its identity.
Apple's legal missive (pdf) states: "Your business logo reproduces, without authority, our client's APPLE Design Logo which it widely uses. By doing so, you are infringing Apple's rights, and further, falsely suggesting that Apple has authorized your activities. In addition, we understand that your website also reproduces other Apple trademarks. This activity heightens the risk of confusion.
"In these circumstances Apple has the right to commence legal proceedings to restrain your activities and to recover its related damages and/or your profits, along with its legal costs. In these sorts of cases, recovery can be significant."
The school's prez, Dieter Gerhard, told CTV News: "We were absolutely shocked. Here's the bigger guy Goliath really coming down on little guy David."
Gerhard insisted insisted his logo "incorporates a mountain and has three bumps on top instead of the two used by Apple", and challenged: "We're saying no one can use an apple for anything any more? An apple's an apple. It should be something that everybody gets to use, especially when our logo is by no means similar to the Apple trademark."
Gerhard's written response (pdf) to Apple's lawyers states: "We do not share your view that our logo shown here on our letterhead reproduces Apple's logo, or for that matter infringe Apple's rights, nor [is] likely to cause confusion amongst consumers regarding the source of related products and services.
"Our logo is unique and distinguishable in numerous aspects from the Apple logo, including our acronym 'VSBT' being part of our logo. Are you suggesting that anyone using any variation of an apple for technology education related use is infringing on Apple's trademark?"
Gerhard concludes: "We find your letter somewhat uncharacteristic of how we have come to know Apple through the excellent business relationship we have shared over the years. In fact I must say we are feeling somewhat bullied by your letter and are not particularly impressed."
The school is running an online poll to gauge public opinion on the matter, with the current consensus around 75 per cent in favour of little guy David. ®