US satellite returns first hi-res snap
GeoEye-1 pics destined for Google Earth
---
Satellite imaging outfit GeoEye has released the first pic from its GeoEye-1, launched on 6 September and destined to provide hi-res snaps for Google's all-seeing Earth and Maps services.
The image in question is of Kutztown University, Pennsylvania, caught on camera while the satellite was "moving north to south in a 423-mile-high (681 km) orbit over the eastern seaboard of the US at a speed of four-and-one-half miles per second":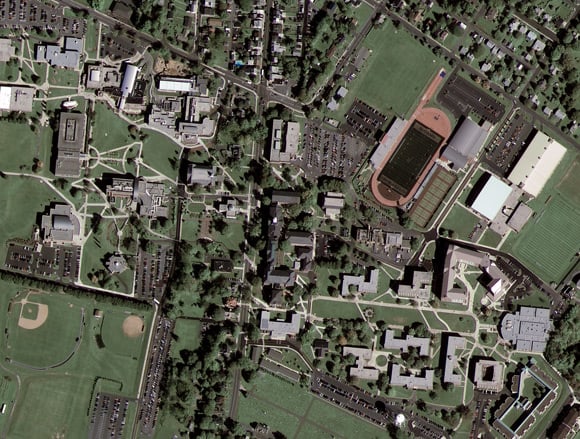 GeoEye has bigger versions of the image here, which demonstrate some crisp detail: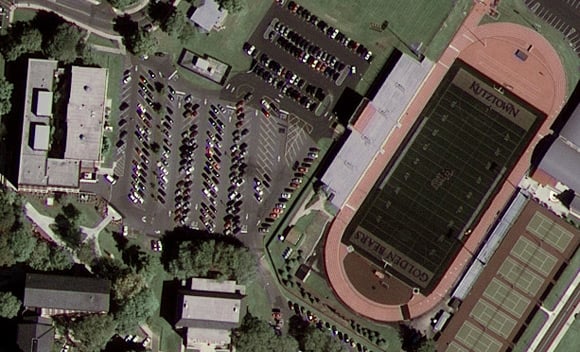 The GeoEye press release explains: "GeoEye-1 simultaneously collects 0.41-meter ground resolution black-and-white imagery in the panchromatic mode and 1.65-meter color (multispectral). This first image ... was produced by fusing the satellite's panchromatic and multispectral data to produce a high-quality, true-color half-meter resolution image."
It adds: "Though the satellite collects imagery at 0.41-meter ground resolution, due to US licensing restrictions, commercial customers will only get access to imagery that has been processed to half-meter ground resolution."
According to Cnet, commercial customers include Google, which has "an exclusive partnership to use the GeoEye-1 imagery for online services". The powers that be will also benefit from GeoEye-1's sharp eyesight. GeoEye's CEO, Bill Schuster, explained that the satellite is "an excellent fit to meet the US Government's important requirements for mapping and broad area space-based imagery collection over the next decade".
GeoEye is planning a second satellite launch, a 25-cm resolution flying eye cunningly dubbed "GeoEye-2", for 2011 or 2012. ®