The US Army's techno-revolution push is making some progress, according to reports. Small military hover-droids in Iraq will be increased by 60 per cent, and there are unspecified plans to integrate footsoldiers' wearable computers into the wider military net.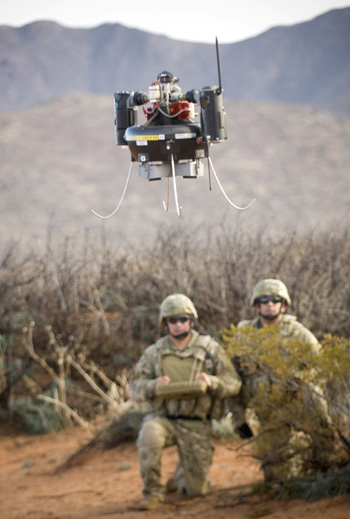 In you go, R2, we're right behind you
The Ares blog at Av Week reports that Army chiefs will send another 12 Honeywell Micro Air Vehicles to Iraq shortly, joining the 20 already there. Meanwhile, the rapidly-evolving "Land Warrior" wearable smartphone/computer kit, on its return to combat with the 5th Stryker Brigade Combat Team, will be hooked up to the nascent Future Combat Systems (FCS) net "to help the dismounted soldier be connected".
FCS is the US Army's futuristic vision for itself, in which soldiers, vehicles, weapons and robots are all tied together by a unified digital radio net. It includes a robot kill-chopper, the small hovering MAV, soldiers' personal comm/puter nodes and various other things including crafty new hybrid-engined vehicles. Originally there was something not at all unlike an unmanned robot tank, though this has now been cancelled.
The FCS programme has slowed down a lot, and some doubt whether it will ever truly come into being. Others have said that the networked droid legions would swiftly be subverted by hackers.
But meanwhile, the smaller and less difficult bits of FCS are being "spun out" as soon as they seem ready, and sent to war in Iraq or Afghanistan to see if they're any good. Examples include the MAV and Land Warrior, and there are plans to try out some FCS remote sensors next year.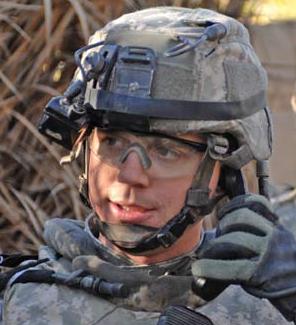 Yes sir, the robots are all dead
For now though, hooking up the 5th Stryker Brigade's Land Warrior sets to the FCS net would seem a bit notional, as there isn't much stuff on that on that net yet. Except, perhaps, the small force of MAVs - said to be quite popular with US troops in theatre for such tasks as peering into windows or through doors, or examining possible roadside bombs.
This does seem to suggest that it will soon be possible to control or task the MAV hoverbots from one's Land Warrior, perhaps viewing the little droids' video on the monocle display for instance. This could offer a nifty way of detecting rooftop or street-corner ambushes, or of following fleeing enemies in tricky urban terrain.
Then, of course, once your robot ally has fingered the enemy around the corner you could take him out safely using your crafty airburst smartgun - also due in Iraq next year, according to reports. Or simply send in one of the latest, heavily armed ground robots.
Whether all this will genuinely help to stabilise Iraq is far from clear. But it certainly seems as though high technology and robotics are genuinely beginning to reach the battlefield. ®
Sponsored: Webcast: Simplify data protection on AWS