Satnav manufacturer Navman has today unveiled a stylish, super-slim addition to its S range of GPS-enabled gadgets.
Measuring only 13.5mm thick and weighing 150g, with a 4.3in flat widescreen display, the new product is the thinnest satnav on the market, Navman claimed. The brushed aluminium casing certainly makes it one of the most stylish.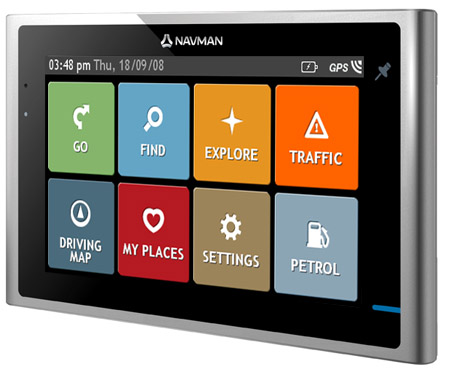 The Glide Touch UI lets you scroll through the menus by touching the screen
Along with the inclusion of Glide Touch, a new icon-based touch-controlled user interface, the new Navman adds a stack more information on points of interest (POIs) available. It also adds more view options to enable the driver or passenger to see more of area surrounding his or her car, thus offering the option to stray off course and take in the scenery.
Navman has also incorporated a new "junction view", which shows major motorway intersections in 3D manner, the better to make clear complicated exits and switches.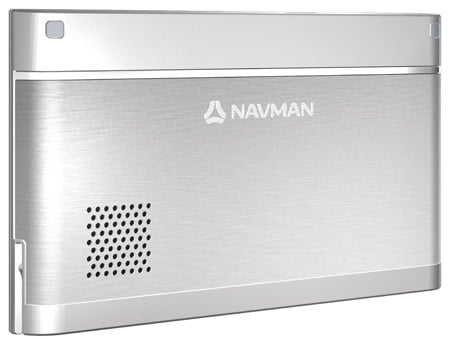 One of the lightest and thinnest satnavs around..?
The S100 incorporates a new button marked Capture that lets drivers save new POIs as they discover them. The one-touch button means you can instantly store your current location to return to at a later date.
The new model runs on the latest SiRF InstantFixII chipset and brings in the latest, 2008 editions of TeleAtlas' maps. The device can also act as an MP3 player, though oddly you'll need a bundled USB adaptor to connect headphones to the S100. Register Hardware was told a Bluetooth-enabled version will be available next year so wireless headphones can be used.
Another nice touch is that to the traffic update aerial has been incorporated into the USB charger cable, cutting down on the amount of cables hanging about in the car.
The S100 will be available from the first week of November, priced at £199 ($343/€251).