Channel 4 in Heathrow Playmobil reconstruction shocker
Oi!
---
It's come to our attention that a trailer for Channel 4's Dispatches - which will next week ask "if the sun is setting" on British Airways - features some rather fetching Playmobil scenes set inside Heathrow's acclaimed Terminal 5.
Well, what a very entertaining idea. So entertaining in fact that after El Reg first unleashed the plastic figurines on T5 back in March, we followed it up with this exposé in April and this shocker in June: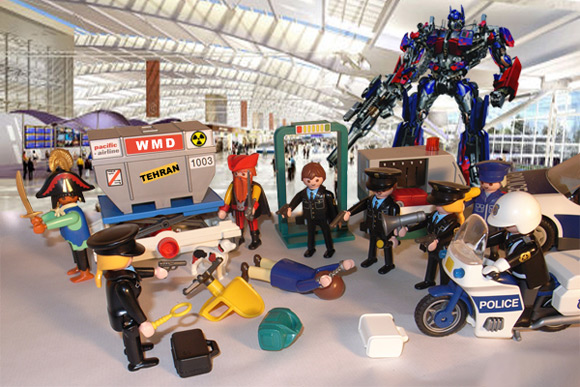 I haven't personally seen the offending trailer for The Trouble With British Airways, but reader emails on the subject contain comments ranging from "uncanny similarity" to "blatant rip-off". Some mention legal redress, while one enraged fan of our reconstructions demands we unleash Optimus Prime on the channel.
Hmmmm, it's tempting. Of course, the whole thing might in fact be an astounding coincidence, in which case we apologise profusely to Channel 4 for casting aspersions on its creativity and integrity.
Scrub that, here's the ad:
You really are a bunch of cheeky, cheeky monkeys, aren't you? ®
Bootnote
I seem to recall that, some years back when I was a fresh-faced surveillance snapper helping to purge the UK's streets of ne'er-do-wells and assorted riff-raff (MacIntyre Undercover, World in Action, a couple of Watchdog gigs, and so forth), I did summat for Dispatches. Back in those days, of course, people had to come up with their own ideas because the interweb was just a nipper of a lad and you could see George Formby at the Odeon and still have change from a tanner and people respected their elders and don't get me started on...