Asus Eee Box Atom-based desktop mini PC
Small, Cheap Computers aren't just laptops, you know
---
Review Asus' Eee marque may be associated with laptops, but it's been applied to desktops too, specifically the Eee Box, a slimline unit designed to stay in one place.
The key to this Eee is still low-cost laptop technology: Intel's 1.6GHz Atom N270 processor, the same chip used in Asus' top-of-the-line Eee portables. It's backed with 1GB of DDR 2 memory and an 80GB 1.5Gb/s SATA hard drive.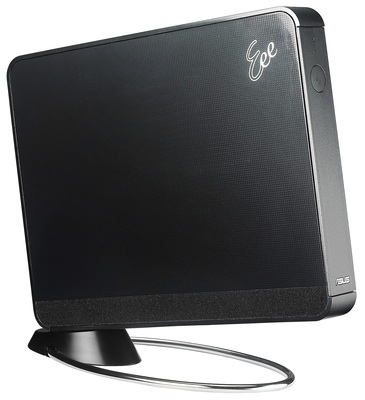 Asus' Eee Box: desktop design, laptop internals
Unlike most desktops, this one has 802.11n Wi-Fi on board, along with the regular Small, Cheap Computer array of connectors: Ethernet - Gigabit not 10/100Mb/s - analogue audio, an SDHC memory card slot and a set of USB ports, four in this case.
Two of those ports are round the back, where you'll also find the Ethernet port, an SPDIF digital audio output port and - in place of the usual VGA port - a DVI connector for a monitor. A special socket at the top of the back-panel takes the bundled antenna for the Wi-Fi link.
The other two USB ports, along with the memory card slot, microphone and headphone 3.5mm sockets, and the power key, are to be founder under a flap that covers the front of the machine.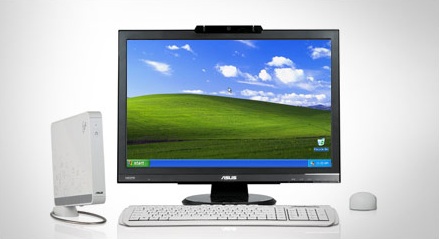 Monitor, keyboard and mouse not included
It's all tastefully done, with the ports, front and back, fitted neatly into the Eee Box's 27mm width. Front to back it's 222mm and 178mm tall. This is a very compact computer, and one that laughs in the face of all the "mini PCs" and "small form-factor" systems that have been released to date.