Texas-based engineers have announced they are working towards a radical new "pulseless" artificial heart, able to act as a complete replacement for a normal human one.
Matt Franchek and Ralph Metcalfe, mechanical engineers at Houston Uni, will team up with medico-boffins at the Texas Heart Institute. The idea is to completely replace a heart with two electrically-powered rotary turbopump units, as opposed to reciprocating units which "pulse" just as the heart's ventricles do naturally.
One pump will drive the pulmonary blood loop, carrying oxygen from lungs to heart; the other would drive the systemic loop, distributing the oxygen through the body.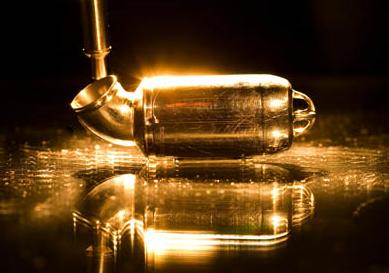 The new one will be cheaper, apparently
The advantage of such an approach, according to the two profs, is that the implanted machinery can be smaller, lighter and much more reliable - existing, pneumatic pulsating artificial hearts are prone to mechanical failures, they say. Pulsing synthi-hearts are used so far only as "bridge" devices, to keep a patient alive until a suitable donor organ can be popped in. They need a large external driver unit to provide the necessary pneumatic power, too. An electric heart's battery pack could be potentially much less troublesome. (Or such a heart might possibly run on body fat one day.)
The downside of pulseless hearts is that getting the heart to respond correctly to the body's demands becomes more difficult. That's where the Houston engineers come in - their job is to design the necessary control system. This could allow the twin pumps of the pulseless heart to operate without a fleshy heart remaining in the body. (Existing pulseless heart-assist pumps typically monitor the pulse rate of the original organ to judge how fast they should be spinning.)
"We are very much looking forward... to the potential development of an effective, reliable mechanical replacement for the failing human heart," says Metcalfe, who is also a prof of biomedical engineering and mathematics.
"With heart disease being the leading cause of death in the United States, this is crucial research that constantly needs fresh approaches and interaction across disciplines." ®