To the Institute of Contemporary Arts on The Mall, where your reporter was pitched in a head-to-head with Matt Mason last week, in an event billed as a "Freetard smackdown". That's a prospect that could frighten the Horse Guards. So what happened?
Matt's book, The Pirate's Dilemma, is subtitled "How Youth Culture Reinvented Capitalism" and what a week to be discussing capitalism. Matt gives his book away for free to promote his speaking and consulting business, which commands well into five figures a time, telling people to pinch stuff. Or something.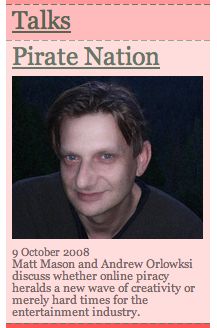 But there was no smackdown - partly because we were far too polite with each other, and partly because the expected hordes of angry freetards didn't show up. Maybe they really don't like paying - and a tenner is a lot to ask to hear two people you've never heard of speak on something you've heard discussed hundreds of times. Or maybe they only come out to events where the quotient of like-minded people is above a certain figure, like Ian Brown's lynching party at the LSE. Birds of a feather do flock together - and so do feather-brained birds.
So because of that, or perhaps inspite of that, there were loads of good questions raised.
I tried to stick to larger themes, avoiding the specifics of Matt's book. There are passages in The Pirate's Dilemma that I've read several times and they still don't mean anything to me. Here's an example:
Punk capitalists are resisting authority - by leveraging DIY technologies and the power of individuals connecting and working together as equals. This twin engine of the new economy is creating new ways all of us can live and work, leaving old systems for dust. Technology + Democracy = Punk Capitalism.
I mean, where do you start?
Is Richard Branson a punk capitalist? I opted for the cowardly approach, and didn't enquire.
We opened with a brief outline and then questions, from moderator James Harkin and the audience. For the benefit of non-Reg readers there's a recap of my introduction at Spiked! Online here (I didn't write the headline). I said I enjoyed Matt's optimism, but challenged his conviction that the phenomena he observed would lead to "a more democratic strain of capitalism". In the music business, for example, the biggest were squeezing out the smallest, while the value of sound recordings continued to crash, ultimately harming everybody. It seemed to me there was a lot of wishful thinking going on here. Simply because new technologies looked transformative, everything would turn out for the best. This is pure utopianism.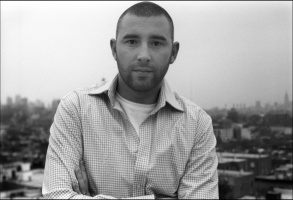 Matt Mason
A real problem I found is that when Matt writes about "piracy" he refers to two or maybe three different things. There's the "borrowing and reusing ideas" - cultural appropriation, which is quite natural. Then there's the "stealing goods", which covers counterfeiting and legal P2P. But Matt spreads his definition even broader, to cover any entrepreneurial or cultural activity that takes place bottom-up, rather than top-down, such as Pirate Radio. The results is three sets of moving goal-posts which can only be nailed down with generalisations.
What I wondered - as I explained in the Spiked! piece - is how so many well-intentioned people had fallen down an intellectual rabbit hole and decided to "fight copyright", rather than reform it with the creators foremost? That seems a bit more punk to me. Instead we've had lots of excuses about why paying people for stuff is evil, and even arguments why there's no such thing as creativity.
Matt disagreed with the view that power was being concentrated as a result of digital networks, and said the indies were doing well in the US - but his impression of their market share was about 3x or 4x larger than it is in reality.
We both agreed on a potential "fix" - which is bringing unlicensed flows of music into a legal framework where people pay for stuff. He said he thought there should be a free market in collection societies. I said if that happened, music companies would simply license all they needed from a dodgy Latvian collection society which - oops! - didn't pay out royalties to the artists.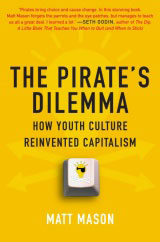 Collection societies strike me as a pretty remarkable achievement. Essentially, these non-profits undertake collective bargaining on behalf of labour. They have survived the invention of electricity, the Reagan and Thatcher eras, but may not survive the EU, which wants to break up their monopoly negotiating power. For me this was another case where a classic labour issue had been abandoned by Guardian readers and other pwogs.
Surprisingly it was Matt who was at the receiving end of the most pointed questions.