Is Apple's iPhone 3G about to gain a full-size screen and keyboard courtesy of a device reminiscent of Palm's ill-fated Foleo? One French company is offering a tantalising glimpse of just such a system.
Dubbed the OLO, the concept is of a laptop-style device into which the iPhone clips. The handset becomes the machine's touchpad, but it also provides - presumably - the combo's processing power and communications technologies.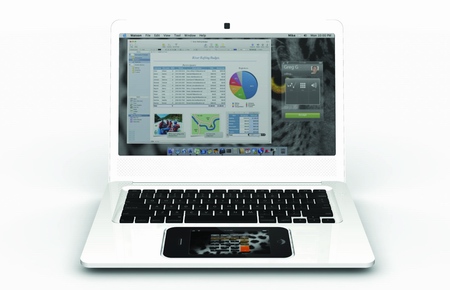 OLO computer: iPhone meets air
It's a nice idea, spoiled only by the a Photoshop marriage of pictures of the iPhone, a blanched-out MacBook Air and a Mac OS X screenshot.
So far, the minds behind OLO have revealed nothing more than the name and said 'Shopped piccy. OLO is backed by French industrial design house Neovenz, which numbers frying pan combine Tefal among its clients. Neovenz is joined by Antony, France-based management consultancy Active Innovation Management. Neovenz is based in Lyon.
Will the OLO ever see light of day? It's "coming soon", says the website, but we have our doubts. Foleo's abrupt cancellation showed that pundits - and possibly punters too - aren't enamoured of such smartphone accessories. And Celio's Redfly, a Foleo-style machine for Windows Mobile devices, doesn't appear to have been a roaring success.
Assuming it's not an early poisson d'avril, of course.
Similar topics