This article is more than 1 year old
Sun takes four-socket Victoria Falls Sparc plunge
The iron roars tonight
Sun Microsystems and server partner Fujitsu have announced a four-socket mid-range server based on the Victoria Falls Sparc T2+ processor, following weeks of strong hints.
Fujitsu did most of the engineering on the Sparc Enterprise M servers sold by both companies and based on the quad-core Sparc64 VII processor. However, the Niagara family of Sparc T series processors and their related Enterprise T family of servers are really created by Sun.
The Sparc Enterprise T5440 server announced today gives Sparc shops a credible box on which to run applications originally coded for UltraSparc-II and UltraSparc-III platforms, and probably still running on Solaris 8 or Solaris 9.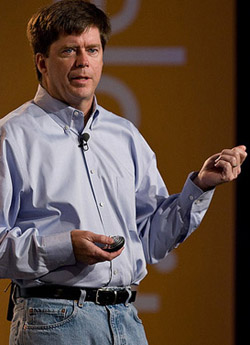 Sun's Fowler: quarterly growth for Niagara,
The T5440 is a lot more compact, has as much or more processing oomph - depending on the workload and the comparison you want to make - and it is a lot less expensive than Sun's UltraSparc-IV platforms of a few years back. The latter were machines that many Sparc customers decided not to move because their performance was weak compared to other RISC/Unix or x64/Linux alternatives and the pricing was a whole lot worse for an equivalent amount of performance.
For those shops who are using vintage Sparc iron, and maybe even more recent dual-core UltraSparc-IV and UltraSparc-IV+ boxes, the T5440 is the kind of midrange box that Sun should have put into the field years ago.
At the T5440 launch event in San Francisco, John Fowler, executive vice president of Sun's systems group, touted the 50 to 80 per cent quarterly growth that the Niagara family of servers posted in the past four quarters. What Fowler did not say - a least from what I heard - is what other Sun execs have confirmed in the past: that the Niagara server line has a $1.3bn annual revenue rate.
While the Niagara growth is large, it is starting from a small revenue base and even with the $1.3bn in sales, the combination of Sun's Niagara machines plus its Galaxy x64 servers, which are selling at around $500m a year, is not enough to push the company to profitability. That's because legacy Sparc platform sales are declining just as fast as these products are growing.
With the quad-socket Victoria Falls server, Sun is clearly hoping that Niagara gear can continue to eat in to the legacy Solaris base. Maybe even extend some sales into established Unix and Linux accounts and newbie companies that are picking their first commercial-grade platforms.
Having a fairly large amount of aggregate computing power (256 threads, running at 1.2GHz or 1.4GHz) and up to 512GB of main memory in a 4U chassis doesn't hurt Sun's prospects. And neither does the ability to support Solaris 8 and Solaris 9 instances inside Solaris 10 containers, a feature that came out in the Solaris 10 5/08 update back in May.