YouTube is now offering full-length television shows (legally) as part of an agreement with the US broadcast giant CBS.
The internet video site will first host somewhat dated content for US viewers such as select episodes of Beverly Hills 90210, the original series of Star Trek, MacGyver, as well as some fare from this current decade like Showtime's Dexter and Californication.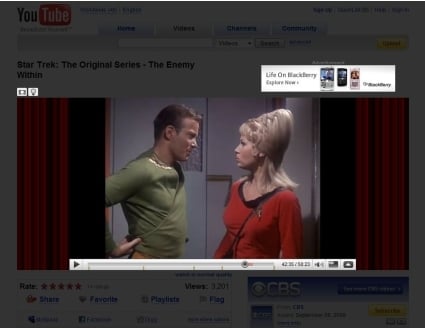 lonelycaptain15
Full episodes are interspersed with non-skippable ads like other TV content sites. From El Reg's experimenting, viewers will on average sit through about five to six commercial breaks between $60m of diamonds getting stolen by the nefarious Virgin Islands casino owner and MacGyver reasonably resolving the situation by driving a convertible out of the cargo hold of an airborne plane whilst getting a congratulatory kiss from the Senator's daughter.
Shows interrupted by advertising are marked with a small film strip icon so nobody stumbles into capitalism without warning. CBS said it will sell its own ads for the content, with YouTube getting a split of the revenues.
Content-wise, there's presently much to be desired. The scant collection of full-length shows (legally) available on YouTube pales in comparison to the TV pantheon on sites such as Hulu, the joint venture of News Corporation and NBC Universal. Also notably in the game is Amazon.com and its subsidiary Internet Movie Database (IMDB).
YouTube's new content will compliment the "theater view" features recently added to the site's video player. Theater view expands the player's dimensions for wide-screen viewing and lowers the brightness of the surrounding page (much like the Hulu's "lower lights" button.)
Unfortunately, licensing agreements still haven't caught up with the World Wide Web. The full-length shows appear to be only available to a US audience.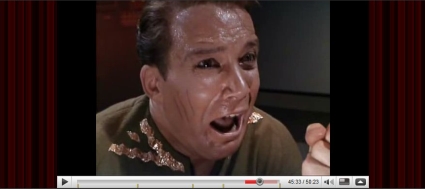 Sorry foreign devils, Kirk's evil double feels your pain.®
Similar topics