This article is more than 1 year old
Apple takes wraps off rumour-matching MacBook Pros
Mill churns, Apple delivers
Apple today unveiled what CEO Steve Jobs claimed were "exciting" new notebooks, though we're not sure anyone who's followed the rumours will be quite so enthusiastic: they'll have heard it all before.
Yes, the new MacBooks are made from bricks of aluminium, the better to make the machines not only thinner - 0.95in - but also more rigid and more resistant to knocks and bumps too. It also cuts the number of structural parts by half, making the machines cheaper to maker and, stressed Jobs, more ecologically sound too.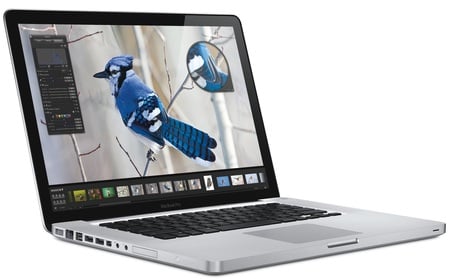 Yes, some use Nvidia chipset technology: the GeForce 9400M, to be precise, which Jobs claimed delivers just over half the performance of a desktop GPU like the 8600 GT, and five times what Intel's integrated graphics can do. Not enough? Apple's chucked in a discrete GeForce 9600M GT with either 256MB or 512MB of dedicated video Ram, ready to take over from the integrated chip, if the task at hand needs extra graphical welly.
Yes, there's a new, glass - "for silky-smooth travel" - trackpad that's multitouch and doubles-up as the mouse button. This one has 39 per cent more finger sliding area and four new gestures.
Yes, there's a glossy black screen bezel and black MacBook Air-esque keys - not to mention Air-style curves on the bottom of the box and the lid. It uses the same magnetic lid latch as the Air too.
The 15.4in screen is LED backlit and so is the keyboard. Want to hook up a second display? It'll need to be a DisplayPort monitor - the new MacBook Pros use the VESA-backed digital alternative to HDMI.

Other ports include the usual Gigabit Ethernet, Firewire 800 and USB 2.0, plus MagSafe for power. This time round, the slot-loading DVD drive's round the right-hand side, not in front - a much more sensible location. So is the Kensington lock slot. The audio ports are the usual 3.5mm analogue/SPDIF combos.
Why the optical drive move? To make room for the battery, which takes up the entire from of the new Pro's base. Removing it provides easy access to the HDD - or SSD if you have the cash, judging by the pics Apple showed. .
Available from today, prices range from $1999/£1399. They'll come with a choice of Intel Core 2 Duo CPUs: 2.4GHz and 2.53GHz - the slower one has 3MB of L2, the other 6MB; 2GB or 4GB of 1066MHz DDR 3; and 250GB or 350GB hard drive capacity.
Apple October 2008 Laptop Launch
Apple revamps MacBook as 13in MacBook Pro
Apple MacBook Air stays skinny, gains beefier specs
Apple takes wraps off rumour-matching MacBook Pros
Blu-ray Disc a 'bag of hurt', says Jobs