This article is more than 1 year old
Canon PowerShot SX110 IS
All the zoom you could ever need
Review Canon seems to release a new Digital Ixus camera every few months or so, but it has been more restrained when it comes to its PowerShot range.
Take the PowerShot SX110 IS. It's the successor to the PowerShot SX100 IS, which was launched back in autumn 2007. As the name suggests, the SX110 is more an evolutionary camera than a revolutionary one. At first glance, it's hard to tell the difference between the old and the new versions, but some changes have been made, both in terms of features and design.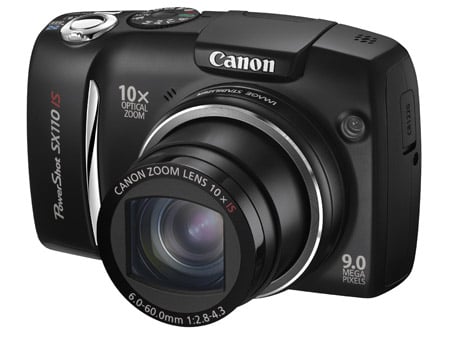 Canon's PowerShot SX110 IS: 9Mp snapper with super zoom
Whereas the SX100 had an eight-megapixel CCD, the SX110 offers nine megapixels - and a 1/2.3in CCD rather than the 1/2.5in one used on the SX100. There's a 3in LCD screen in place of a 2.5in display, and at 245g, the SX110 is less weighty than its 266g predecessor, although, with a width of 111mm, it's 2mm wider.
Like the SX100, the SX110 is a super-zoom camera with a 10x optical zoom - it has a 6-60mm f2.8-4.8 lens, equivalent to a 36-360mm lens on a 35mm camera - and aims to bridge the gap between compacts and full-blown digital SLRs.
This is a rather chunky camera and that's mainly down to the fact that it's powered by two AA batteries. The SX110 can use either alkalines or NiMH rechargeables but, rather disappointingly, comes supplied with the former. Likewise, it uses SD/SDHC cards, and Canon provides a paltry 32MB SD card that will store the grand total of seven images at the highest resolution.
A quick tour of the SX110 reveals a small speaker on the top left, next to which is the flash - more on this later - a large control dial, power button and zoom rocker-switch.