This article is more than 1 year old
Canon PowerShot SX110 IS
All the zoom you could ever need
There are also a dozen scene modes such as landscape; kids and pets; foliage; night snapshot; snow; and fireworks. You get continuous shooting at 0.7f/s or 1.2f/s, plus various in-camera editing features such as red-eye reduction. Unfortunately, our sample came without instruction book or software, but the latter includes Canon's PhotoStitch program for creating panoramic images from multiple shots
Offering both Easy and Manual modes tells you that the SX110 is aimed at a wide range of users, although its main target audience is closer to the occasional snapper than the enthusiast. This helps explain why there is no hotshoe, for example, but it's a shame that the SX110 doesn't include a viewfinder (optical or electronic) with such a large zoom lens.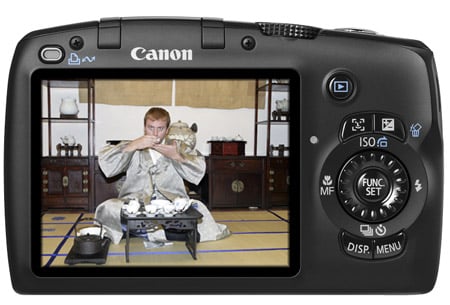 The LCD screen is large and bright, but it eats battery power
Likewise, the flash has to be manually lifted into position, even in Auto mode – we think it should pop-up automatically. True, if you try taking a shot in Auto mode and the flash isn't deployed, you get three warning messages in the LCD screen - we're surprised Canon didn't include a klaxon - but it's an annoyance if you forget at the crucial moment.
The SX110 powers up quickly, taking around two seconds, although the shutter isn't that responsive and you have to press it fairly hard and wait a couple of seconds before the camera fires off. Canon has stuck to its familiar tabbed menu and L-shaped function menu, which involve a bit of scrolling but you soon get to grips with it.
The LCD screen is large and bright with good resolution, but it eats up a fair bit of battery power. That's another reason why the lack of an optical viewfinder is to be regretted.