Laser raygun plane gets $30m 'extended evaluation'
Extended from what?
US arms goliath Boeing is pleased to announce it has been awarded an extra $30m by the US Air Force to keep its Advanced Tactical Laser (ATL) raygun aeroplane in operation, following the original "technology demonstration" deal under which it was built. However, the technology appears yet to be demonstrated, as no inflight lasing has taken place.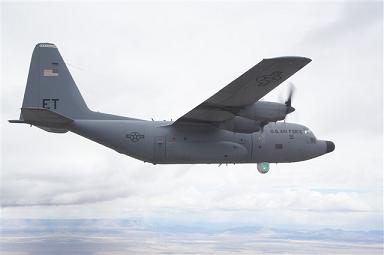 Silent, but not particularly deadly.
The ATL consists of a 20-tonne weapons system installed in a C-130 medium cargo plane. It shouldn't be confused with Boeing's other, even more enormous laser-cannon aircraft, the jumbo-jet-based ICBM-toasting Airborne Laser (ABL). Boeing announced that the ATL had been completed last year, and said the first ground blasts had been fired in May - promising airborne zappings "this year". Every significant ATL milestone, in fact, has been publicly broadcast so far.
Nonetheless, before revealing any airborne rayings, Boeing now says that it has already been given cash to keep the ATL available so that military customers can try it out for a while and see what it might be good for.
"The Extended User Evaluation will give the warfighter the opportunity to conduct hands-on operation of ATL and determine how this transformational laser-gunship technology can be integrated into the battlefield," said Gary Fitzmire, Boeing blaster-cannon honcho.
The ATL is said to put out a hefty 100-kilowatt beam, and possibly hold that to a four-inch focus at 20km. Its highly dangerous chemical fuel would be exhausted after perhaps 100 blasts of unspecified duration, at which point the sealed six-tonne laser module would need to be drained of toxic, corrosive exhaust products and carefully refuelled - probably a job requiring return to the US.
In most battlefield situations, you much rather have a normal AC-130 gunship firing a broadside of ordinary projectile ammunition. This would offer much more firepower and endurance, and much less logistic hassle.
But some have said that the ATL could make sense for certain highly unusual special-forces applications. It would strike silently and untraceably from afar - it might put a cellphone tower out of action, start a fire or burst a vehicle tyre without anyone realising that US forces were responsible or even present.
It looks as though the end customers - believed to be the Air Force parts of the US Special Operations Command - are excited enough about the ATL to put down some cash before it has even been properly demo'd in the air. Alternatively, inflight fryings have already taken place, but simply haven't been announced for some reason. ®