This article is more than 1 year old
Mazda takes RX-8 for a spin on 'hydrogen highway'
H-powered rotary engine debuts outside Japan
'Leccy Hydrogen Tech Mazda - a company once more famous for its lightbulbs than its cars - has taken its hydrogen-powered RX-8 for a zip around Norway's roads, the revolutionary - literally - vehicle's first trip outside Japan.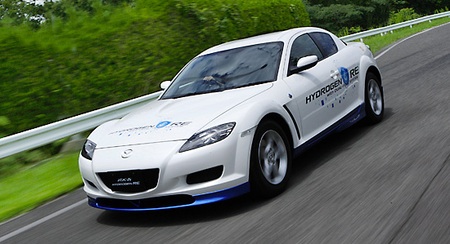 Mazda's RX-8 Hydrogen RE: gas-powered
The RX-8 uses a rotary engine that runs not only on hydrogen but also petrol - handy if you run out of the elementary fuel. The car switches automatically, but the driver can change fuels at will.
Hydrogen is greener, of course, but delivers a fraction of the range, alas: the RX-8 will go 100km when running on H - and 549km when it falls back on its 61l petrol tank.
Mazda said the RX-8's rotary engine delivers 80kW of power (109bhp) when running on hydrogen, or 154kW (220bhp) when running on petrol.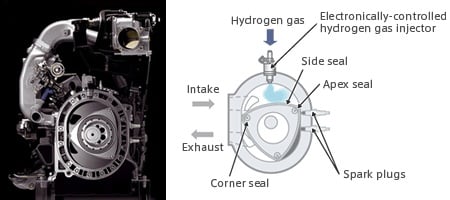 Mazda's hydrogen-ready rotary engine
The rotary engine uses a rounded triangular rotor instead of a cylinder. The way the tips of the rotor makes contact - an 'apex seal' - with the sides of the engine chamber as it turns allows fuel to enter and be compressed. As the compressed fuel passes the ignition points, it burns, expands and drives the rotor round to carry it to the exhaust port and out, and the cycle continues.
The Hydrogen RE adds a secondary, electronically controlled fuel injection point for the hydrogen, and a mechanism for sealing the petrol inlet.
The Japanese car company's has been working on the RX-8 since the early part of the decade, putting in on Japanese roads back in 2004. Norway's interest comes through HyNor, its state-run hydrogen highway project, which is due to take delivery of 30 RX-8s for testing. HyNor is building hydrogen fuel stations along a 580km route between Oslo, Stavanger and on to Bergen.