This article is more than 1 year old
Archos 5 internet-enabled PMP
Our new favourite mobile video device?
Review Traditionally, we've not had a lot of time for combined personal media players and internet tablets. This is because most of them are just not very good.
Cowon's Q5W was hampered by having Windows CE lurking in the background, the Archos' 605 Wi-Fi made rather heavy weather of web navigation, the Archos 705 was just very, very heavy and while the iPod Touch is good, that 3.5in screen is just a little on the small side.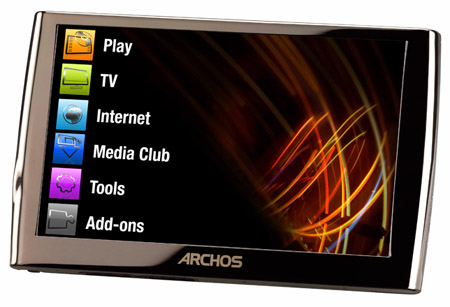 Archos' 5: sexy looks, but a fingerprint magnet
In its latest attempt to successfully fuse the two concepts, Archos has chucked the rather Rococo styling and hybrid touchscreen/key control interface of the 605 into the bin and started from scratch. The result is a very solid device weighing 250g - for the 60GB model; the 120 and 250GB models re 300g - and measuring 127.5 x 78.3 x 12.9mm - the larger HDD devices are 6.5mm deeper - encased in a polished gun-metal case.
In the hand, the 5 feels a quality device: cold, solid and sleek and with no square edges or protuberances to snag in pockets or bags. The player itself is physically no more than 10mm larger than the screen in any direction and as a piece of design it really is quite superb.
The casing itself, however, is a true fingerprint magnet, oily smudges showing up a treat. That said, the minimalist industrial styling goes some way to lessening their impact, the 5 having the air of a device that should look just a little used and utilitarian rather than polished and pristine. Think the PMP they would use aboard the Nostromo rather then the Enterprise.

Two USB ports, but proprietary connectors
External controls are limited to the on/off and volume switches on the top of the player, with two proprietary Archos USB ports tucked away at the bottom. We were pleased to see that the flick-out rear stand sported by the 605 has made it onto the 5, though the position of the USB ports means you can't stand it up and charge it at the same time.