This article is more than 1 year old
Archos 5 internet-enabled PMP
Our new favourite mobile video device?
A 3.5mm headphones jack is located on the left side of the player while opposite lurks the 5's single speaker, a rather puny affair making us wish Archos would start to fit its players with two small puny speakers rather than just the one.
Memory expansion is noticeable by its absence, but since the entry-level player comes with a 60GB HDD, we don't think that is such a big deal.
Archos has ditched the soft-touch matte screen of the 605 and 705 in favour of a solid high gloss affair with a more than decent specification: 4.8in corner to corner, 800 x 640 pixels and 16m colours.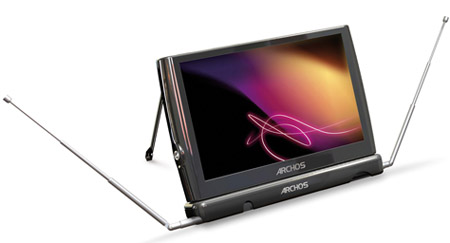 The new screen is more prone to reflections
The new screen is more prone to reflections than the old, but in every other way it's a massive step forward. From a purely visual perspective, the 5's screen is very, very nearly as good as the similarly glossy and identical resolution 4in screen on the Cowon A3. Looking at the two devices running side by side, we'd still say that the A3 has the slightly sharper image, but there's very little in it.
The screen's solid backing works wonders for the touchscreen UI too. Tapping the screen on a 605 or 705 was a bit like prodding cold, congealed porridge. Taps on the 5 screen feel far more positive, and the UI reaction time is far faster, doubtless helped by the underlying Linux OS being driven by a 600MHz ARM processor with 128MB of RAM to romp about in.
File and codec support once again prove to be something of an Archos weakness. Out of the box you get MPEG 4 support, including Divx and XviD, WMV and Motion JPEG video, along with MP3, WMA, Protected WMA, WMA Pro 5.1 and WAV audio. Cough up £12.50 for the "Cinema" plug-in and you can add MPEG 2/VOB files with AC3 sound.